Climate-KIC announced on 2 October that its unique Accelerator, launched in 2010, has so far helped 45 European cleantech start-ups to collectively raise €59 million in external investment.
The 45 start-ups represent technologies from consumer-facing apps to highly specialised techniques for improving the resource efficiency of industrial processes. This diversity demonstrates an increasing trend for investors to engage with a much wider range of clean technologies that incorporate energy, material and resource efficiency as well as adaptation technology.
The Climate-KIC Accelerator supports over 120 start-ups in Europe each year, offering unique access to ideas, people and partners across Europe to help provide the most promising cleantech start-ups with the tools, opportunities and network to transform their ideas into commercial success. By giving start-ups access to its network, workshops, business coaches and early stage funding, Climate-KIC is helping to deliver investable cleantech start-ups to the market – helping to make the world a greener place one venture at a time.
Hero Prins, Director of Entrepreneurship at Climate-KIC commented: "As the €59 million raised by our Accelerator alumni has demonstrated, Climate-KIC is at the forefront of the global efforts to maximise climate innovation and entrepreneurship. Ultimately Climate-KIC believes that entrepreneurs and innovators hold the key to responding to the climate challenge."
Prins added: "Overcoming climate change should not stifle innovation, but instead it should create new businesses, new economic models and new opportunities, ending our reliance on the economics and thinking of the last century. Climate-KIC was created to fulfil this vision. These success stories show the value of our unique approach, and we are all looking forward to seeing the next batch of standout European cleantech innovation at this year's Venture Competition. Undoubtedly the winners will be companies to look out for." (Photo: Hero Prins, Entrepreneurship Director, Climate-KIC)
Hybrid solar panel
One of the 45 start-ups, UK-based Naked Energy, is developing 'Virtu' ® a revolutionary and patented hybrid solar panel that generates both electricity and heat for commercial and residential applications. Naked Energy has previously won Climate-KIC's Venture Competition, that recognises the most promising business ideas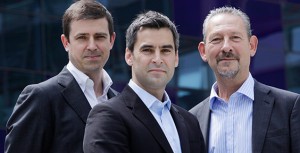 within Climate-KIC's Accelerator, and earlier this year the company announced that it had been awarded €1 million by The Department of Energy & Climate Change (DECC) to assist in the development of its innovative solar technology.
Commenting on the support the company received from Climate-KIC, Christophe Williams, Founder and Managing Director of Naked Energy said: "When we first engaged with Climate-KIC we were very early stage, but straight away its team was able to see the innovative value of our technology. Throughout the Accelerator process, whether with financial support or coaching, Climate-KIC has been invaluable in helping us to achieve our milestones, which is crucial for early stage companies in developing customer engagement. Ultimately this support has enabled us to get to a point where we are now actively looking for production partners to manufacture our products in Europe." (Photo: Naked Energy's Christophe Williams (middle))
Intelligent climate control for consumers
tado°, the European market leader in intelligent climate control for consumers, enrolled in the Climate-KIC accelerator in 2012 and was named a runner up in the 2012 Climate-KIC Venture Competition. tado° has now raised €10 million in VC funding.
Highlighting the value of accessing Climate-KIC's network of partners through the Accelerator, Stefanie Sedlak, PR & Communication Manager at tado°, commented: "Climate-KIC not only supported us within their financial funding programmes but they have also offered us a great platform to exchange knowledge." (Photo: tado°)
Converting organic waste into higher value chemicals
Waste2Chemical, a Dutch specialist in providing technical solutions to convert organic waste into higher value chemicals, has recently completed a first investment round to support the development of a demonstration scale factory by 2016.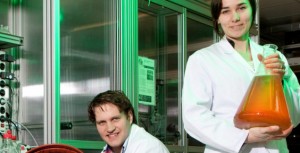 Niels van Stralen, Director and Co-Founder at Waste2Chemical said: "After raising significant subsidies, grants and awards, Climate-KIC was the ideal organisation to assist Waste2Chemical in professional preparation for raising a first investment round. The quality and experience of the team behind Climate-KIC is excellent and this makes the organisation truly distinctive." (Photo: The Waste2Chemicals team)
Pan-European Venture Competition
Following the success of these 45 Accelerator alumni, later this month Climate-KIC will be showcasing the most promising start-ups currently in its Accelerator. 18 of Europe's best cleantech start-ups, that have each won €20,000 in regional competitions across Europe, will be competing in the European finals of Climate-KIC's 2014 Venture Competition on 30 and 31 October 2014 in Valencia, Spain.