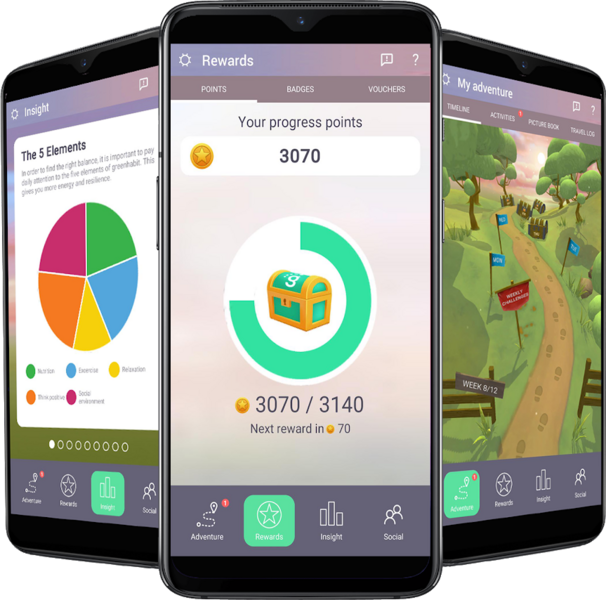 Dutch start-up Greenhabit was launched within the EIT Digital Innovation Factory to help people who have diabetes and cardiac conditions to stick to their rehabilitation programmes.
The key is to support people with handling stress, managing their attitude and mood, and meeting their social needs - to improve their ability to change.
"Stress, loneliness, and lack of money influence our behavior. When people come into difficult situations, they immediately lose their good intentions," explains Chantal Linders, CEO and co-founder of the start-up.
The company employs a scientific approach to behavioural change.
When someone joins, they receive a full kit in the mail, including a training book, a water bottle, a booklet for journaling and the rules of the game. They are also instructed to download the Greenhabit app.
The software uses gamification to keep users engaged, presenting daily activities, and rewarding progress. With help of Artificial Intelligence (AI) Greenhabit is able to identify the needs of patients to tackle the underlying cause of unhealthy behaviour.
A new way to handle rehab
"Every morning the user opens a new surprise, that includes a range of healthy activities to choose from. "It's a very unique and enjoyable way to work on improving healthy habits, because most of the other solutions on the market are boring," said Linders. "We try to make it fun."
As loneliness and isolation can make it harder to carry on practising, users are encouraged to work with a "buddy" who also receives the package and the app and there is a peer community in the app where people can find friendly advice and support. "We did a lot of research and people learn better with others," said Linders. "This buddy should be someone you know well, but they can be remote."
The initial programme lasts for 12 weeks, which research shows is the amount of time a person needs to become aware of unhealthy habits and change them. After 12 weeks participants can join the 'For Life' programme to sustain the newly acquired, healthier, habits.
Growth so far, and in the future
The Greenhabit solution has already found its way to the market, targeting different audiences.
The start-up sold a mindset version of their product to around 100 employers in the Netherlands, who give the system to their employees as a healthy benefit. The solution was also taken up by an important Dutch organization for Occupational Safety and Health, who provides it as a software-as-a-service to people as a prevention tool.
The company also partnered with a drug store in the Netherlands, which lets Greenhabit participants get their blood pressure, cholesterol and blood sugar checked. It is also engaging with insurers about having the product covered for people who need rehab.
The product is already CE registered as a medical device CLASS I, which means it can be used in the EU to recommend rehabilitation and treatments for certain conditions. The company is working on CE CLASS II registration, which will allow the startup's team to make diagnoses based on the patient data that their app can collect. Medical professionals would then be able to use Greenhabit to keep track of the condition of their patients.
The start-up is seeking EUR 8 million in investment to support its plans to scale up and out of the Netherlands, reaching the German market by next year and all of the EU by 2024.