EIT Digital Challenge 2020: 20 outstanding deep tech scale-ups announced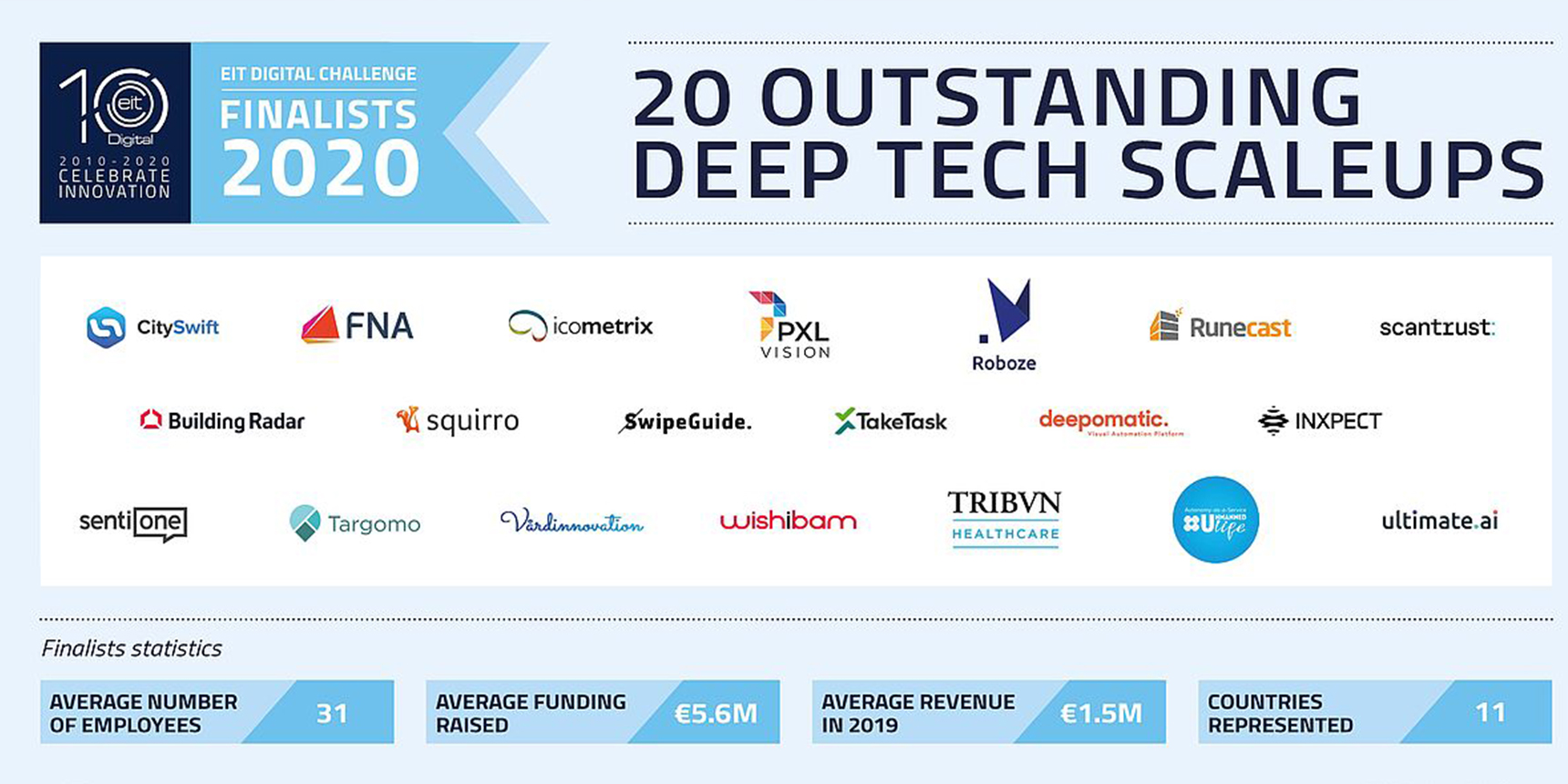 20 scale-ups from 10 countries will compete in the final of Europe's flagship scale-up competition in digital to win international growth support totalling EUR 350 000.
An AI solution transforming patient care. A 3D radar redefining human-machine interaction. A machine-to-machine platform managing autonomous devices for Industry 4.0. These are just some examples of the 20 finalists nominated for the EIT Digital Challenge this year. They cover a wide variety of topics within the EIT Digital focus areas (Digital Finance, Digital Tech, Digital Wellbeing, Digital Cities, Digital Industry). And they all have a common goal: to grow fast and contribute to build a strong digital Europe, one that's inclusive, fair and sustainable.
Discover more about EIT Digital
The EIT Digital Challenge takes place for the seventh consecutive year and focuses on 'deep tech' digital scale-ups with a differentiating product offering, leveraging sophisticated, hard-to-reproduce digital technologies that fuel the digital transformation. The finalists were chosen out of 403 applicants and come from 11 different European countries. On average, they reached a revenue of EUR 1.5 M in 2019, have already received EUR 5.6 M funding and employ 31 people.
The winners will be chosen in a final event held online on November 12, where the finalists will pitch in front of a jury of experts and compete for prizes worth EUR 350 000.
The prize package includes a full year support by the EIT Digital Accelerator, worth EUR 50 000, for the five best companies, which will help the scale-ups growing their businesses in Europe and beyond. The EIT Digital Accelerator will support the EIT Digital Challenge winners in scaling up their business in Europe by helping them secure international customers in target markets and raise growth funding.  In addition to that, the first prize winner will receive a cash prize of EUR 100 000.
The exclusive final event of EIT Digital Challenge is a unique opportunity to connect to the most prominent European tech scale-ups, innovation stakeholders, investors, industry representatives. During the event, participants will be able to arrange business meetings with the finalists and other prominent scale-ups from EIT Digital ecosystem via our online matchmaking platform.  
The event is by invitation only, if you are a stakeholder of the digital innovation ecosystem (corporates, investors, journalists and EU institutions) and you would like to join the event please check the link below:
The 20 finalists are:
Building Radar (UK) – Multisource data collection and AI powered platform to enable transparency about deal opportunities for construction industry in cities
CitySwift (IR) – data-driven scheduling and planning technology for public transport companies
Deepomatic (FR) – a no-code visual automation platform to support field operations with computer vision applications
Financial Network Analytics (UK) – AI-powered multisource data aggregation to provide visibility and what-if analysis for optimisation of everyday liquidity management.
Icometrix (BE) – helps effectively quantify brain abnormalities through AI-powered imaging solution
Inxpect (IT) – 3D safety radar for robotics and industrial automation
PXL Vision (CH) – PXL is a technology platform for secure and automated identity verification and the creation of trustable digital identities
Roboze (IT) – Designing and manufacturing 3D printers and digital services for extreme applications
Runecast Solutions (UK) – Automated Hybrid Cloud insights for mission-critical configuration & security compliance 
Scantrust (CH) – Connected goods platform that binds physical goods with online identities for active brand protection, supply chain awareness, and consumer engagement
SentiOne (PL) – Omnichannel social listening and customer service automation platform
Squirro (CH) ­– Enables organisations to transform enterprise data into AI-driven insights
SwipeGuide (NL) – Intelligent work instructions and procedures via augmented apps to improve productivity on factory floor
TakeTask (PL) – Mobile application used by organisations to assign, execute and verify tasks on a large scale in many locations simultaneously for any industry
Targomo (DE) – Location intelligence solution to optimise retail networks, deliver better public services, and improve real estate searches
TRIBVN Healthcare (FR) – AI-powered solution that allows pathologist to better manage and analyse cell and tissue images to improve cancer diagnosis
Ultimate.ai (FI) – AI powered platform to scale and optimise customer service operations
Unmanned Life (UK) – Machine-to-Machine platform to enable Autonomy-as-a-Service to deploy and manage autonomous robotic devices for Smart Cities and Industry 4.0
Vårdinnovation (SE) – Medical device software that through multi-sensor data collection and tasks automation helps optimise healthcare system efficiency
Wishibam (FR) – Enables the creation of scalable marketplaces based on real-time store inventory
Interested to learn more about the growth services of the EIT Digital Accelerator? Get in touch!