EIT Digital: European deep-tech scale-ups help organisations deal with effects of COVID-19 pandemic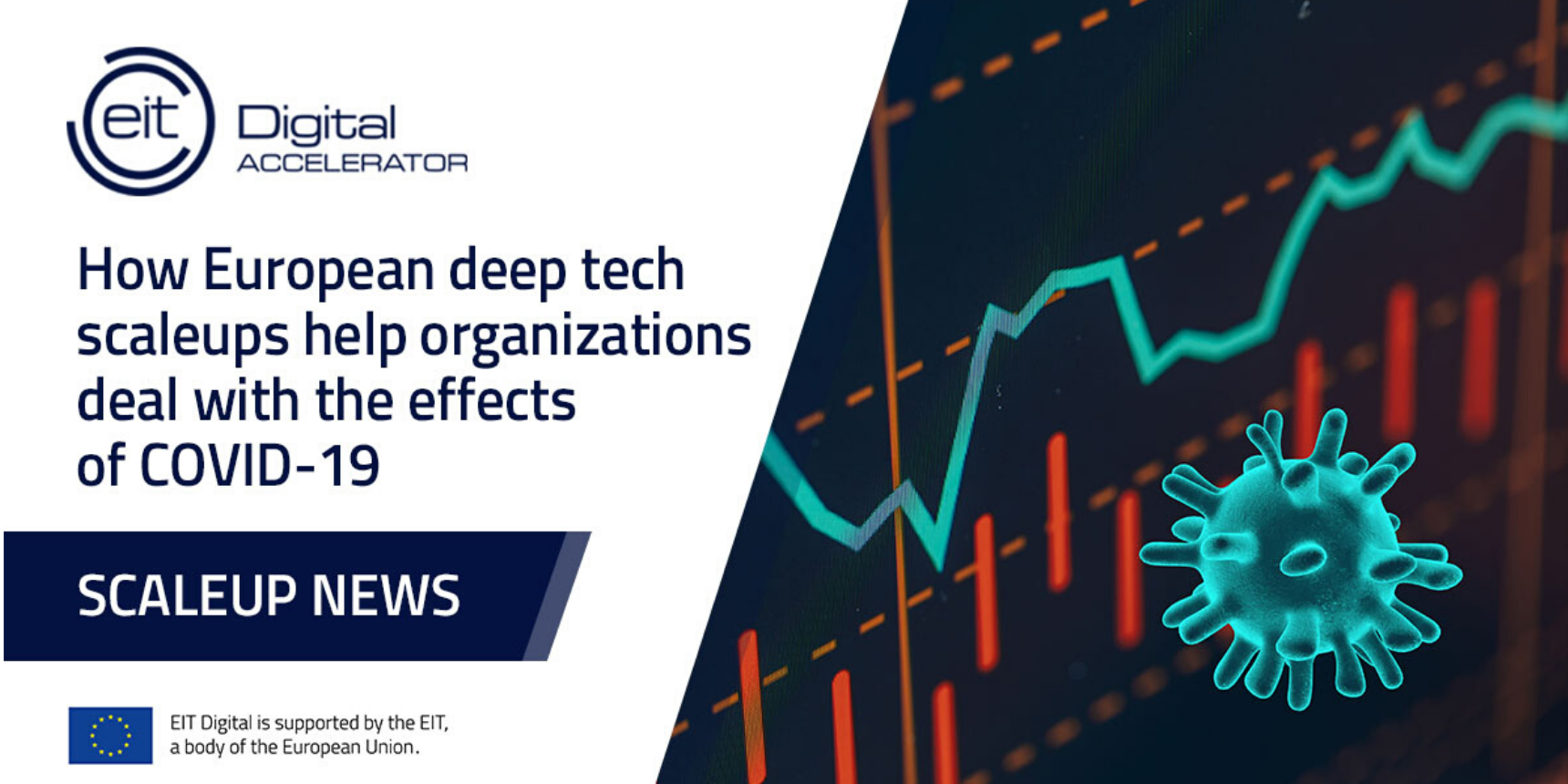 How the EIT Digital-supported deep-tech scale-ups help to deal with the effects of COVID-19?
At present, the Coronavirus (COVID-19) pandemic is disrupting both society and economies across the world. As a leading organisation for digital innovation and entrepreneurship, EIT Digital is committed to support the pan-European ecosystem to find effective solutions in dealing with the pandemic's societal and economic effects and implications.
In crisis situations, innovative digital solutions can help address efficiently the needs of various stakeholders. They overcome physical distance and compensate for limited personnel resources, helping companies to continue serving their customers, healthcare providers to stay in touch with patients, and schools to teach their students.
A number of deep-tech scale-ups from the EIT Digital Accelerator programme respond to the global challenges by offering their innovative solutions to support the affected sectors and ensure business continuity in this difficult period.
Telemedicine to Address Healthcare Shortages
COVID-19 has put enormous pressure on many healthcare systems in Europe, stretching the available resources and support to breaking limits.
Get the best of the EIT's news once each month
In Italy, one of the worst-hit countries in Europe, nearly all intensive care beds are reserved for critically ill COVID-19 patients. Meanwhile, the UK's National Health Service system is repurposing an exhibition centre in London into a field hospital to host COVID-19 patients.
Reducing burdens on healthcare systems
Telemedicine is one of the solutions helping reduce burdens on healthcare systems by making it possible to monitor COVID-19 patients remotely. For example, OpenTeleHealth's remote health monitoring solution COVID-19 Telemedicine increases available healthcare resources by streamlining patient monitoring. The digital COVID-19 Telemedicine platform provides COVID-19 clinical protocols for remote screening and monitoring, allowing authorities to conduct remote preventative care. It allows nurses to process an average of 50 patients an hour, significantly increasing staff/patient ratio and eliminating the face-to-face interaction, thus reducing the risk of getting infected.
The solution collects, stores, and analyses medical records to map the virus, and thus offers a structured data that can be used to predict future trends. In cooperation with Siemens Healthineers, the COVID-19 Telemedicine has recently been implemented in Norway.
Remote management of infected individuals
Another company addressing the same challenge is SidekickHealth. It has recently provided the Icelandic Emergency Management Authorities with a nationwide COVID-19 program to remotely triage and manage infected individuals in their homes. Through the application installed on their mobile devices, patients can self-report on a panel of symptoms and measurements on a predefined schedule, multiple times a day if needed. Meanwhile, healthcare professionals can monitor and manage patients through a dashboard which alerts them when action is needed to be taken.
Connected telemedicine cabin
When patients need proper medical check-ups that are not possible at home, a connected telemedicine cabin by Tessan can help avoid going to a hospital. The cabins are equipped with seven medical devices: dermatoscope, otoscope, oximeter, stethoscope, thermometer, blood pressure and balance. These devices are remotely controlled by the doctor to provide precise measures for diagnosis, for example, to assess if a patient has a respiratory infection, fever and acute fatigue – the symptoms common for the COVID-19. To ensure the hygiene before and after use, each cabin is equipped with hydroalcoholic gel and disposable wipes. Tessan's cabins have already been installed in a number of pharmacies in France.
Keeping health practices operating as usual
Front line workers have some of the highest risks of catching and transmitting COVID-19. Doctors' offices and non-emergency healthcare facilities then face a tough choice: keep their practice open and risk their staff's health or close their doors.
Moving health care providers, such as physiotherapists, into a telehealth environment allows practices to remain open, minimise risk to staff and free up available space for urgent treatments. Digital Wellbeing companies, like Corehab, make this move possible by allowing physiotherapists to offer digital rehabilitation sessions and support. Wearable medical devices enable physiotherapists to monitor patients' movements, measure progress and encourage patients to comply with treatment recommendations from the comfort of their homes.
Creating remote workforce quickly & efficiently
As countries around the world close non-essential businesses, many companies are scrambling to digitalise their workforce and move operations into the Cloud. Over the last couple of weeks, IT companies have transitioned thousands of employees to remote working.
While remote working is typically associated with 30% to 40% greater productivity, this isn't necessarily the case when employees are not used to working from home or the right systems are not in place.
Digital technology companies like Bloola help businesses digitise their organisation with centralised communication, collaboration and task management tools. Centralising essential processes, like communication, marketing and sales, makes it easier for employees to stay up-to-date and gives managers control over employees' workloads.
Bloola is currently offering free onboarding support and a 60-day trial to help companies remain operational.
Another technology company helping businesses transition to remote working is Austrian Grape.io, a remote communications and operations tool. Grape.io integrates with market-leading tools and legacy software to ensure companies can remain productive and efficient. Their communication tool is free for small businesses (less than ten users).
Keeping businesses running with digital services
With the massive surge in online traffic, caused by the increasing Internet usage, many digital services have experienced crashes and slowdowns. Moreover, in response to the crisis many applications and features were developed and launched in a hurry, which exacerbated the performance issues. That's why Gatling.io is offering free load-testing for any company or administration involved in education, health, and remote work in the fight against COVID-19.
Some companies, rather than launching a new digital service, are leveraging technology to continue operations. For example, manufacturers are using solutions like Oculavis to conduct remote service maintenance on industrial machines so technicians and engineers can continue to work from home. Oculavis' software share works on tablets and smartphones and uses smart glasses and augmented reality to connect technicians on the factory site with the maintenance experts remotely.
Network providers are also facing numerous challenges. Normally they send hundreds of technicians out for daily maintenance of Internet and TV access points for commercial and private clients. As many service technicians fall ill, some telecom operators started to send Oculavis' remote maintenance kits to the clients directly. Equipped with smart glasses (disinfected after every use) and an app, clients are guided by a service specialist to fix the network issues themselves.
Oculavis currently offers 10 free licenses for six weeks.
Small business owners that used to deliver paper-based financial documents to their accountants can no longer do that for health safety reasons. Thus, moving to electronic document exchange is becoming more crucial than ever.
CashDirector enables banks to offer their micro and small business customers a free platform that enables a remote and secure exchange of invoices and documents with their accountant. The platform supports photo capture of invoices through a mobile device with automatic upload to the platform; upload of scanned invoices and documents; secure, password enabled access by the accountant; invoice booking workflow and other key features.
Financial institutions can offer this service to SMEs within 48 hours, with their own branding and without any IT integration required.
Stay tuned
If you would like more information about any of the companies featured in this article, please contact here.
As the global situation continues to evolve, more challenges caused by the COVID-19 impact will arise. EIT Digital will continue monitoring scale-ups from the EIT Digital Accelerator portfolio that address the new challenges and offer their expertise to support the ecosystem.
EIT Digital Accelerator provides tailor-made growth support for European tech scale-ups by helping secure international customers and raise capital. The Accelerator team comprises over 30 experienced business developers and finance experts operating from 17 cities across Europe, along with a hub in Silicon Valley. Since 2012, they have supported 300+ companies who raised over EUR 900 million in investment.