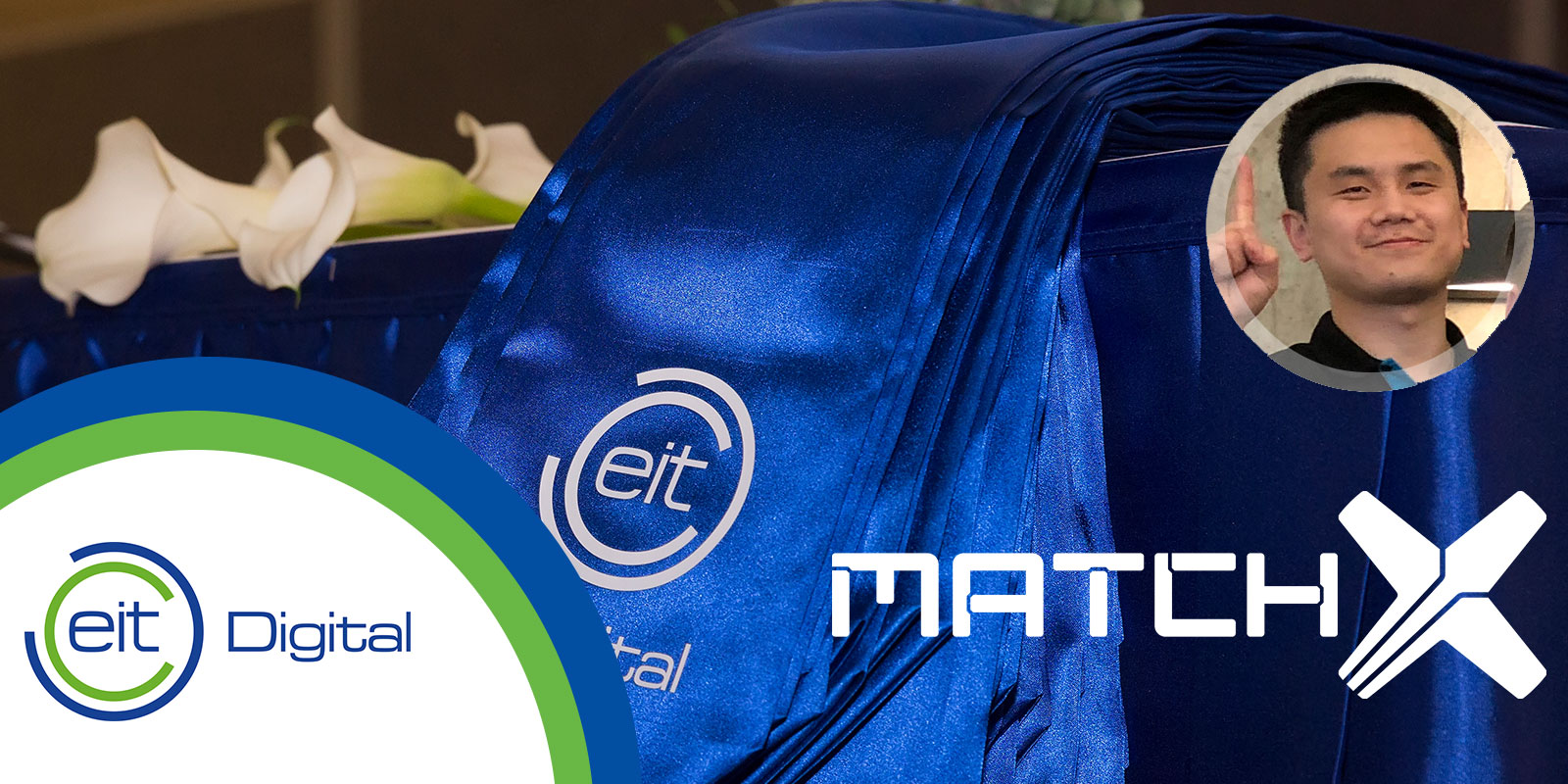 EIT Digital Master School student to power the billion dollar global data network
An American billionaire knocks on your door offering you millions of dollars and shares in his global company if you come to work for him. What do you do? This was the proposal put to Xin Hu and his team. He refused the offer, thinking, 'We must be worth more than that.' This graduate of the EIT Digital Master School instead co-founded his own European company, MatchX, that now is valued at between ten to twenty million dollars.
The American billionaire led to the fulfilment of a European dream for a Chinese man. After completing his bachelor's in telecommunication and engineering in China, Hu was already deep diving into the Internet of Things (IoT). He designed and developed IoT products and co-authored papers and patents for government projects. But for him, that was not enough. He was driven to learn more about the IoT industry. He was offered a half-scholarship at the EIT Digital Master School and a full scholarship at Erasmus Mundus. Despite the full scholarship, he chose to enrol on the Internet Technology and Architecture programme at EIT Digital.
Entrepreneurial spirit
The entrepreneurial spirit of the EIT Digital Master School tipped the scales for Hu: 'You learn how to start a company and how to lead a team.' Hu studied his first year at the Université Pierre et Marie Curie (UPMC) and his second at the Technische Universität Berlin. This brought him to where he is now, a CEO and co-founder of MatchX. 'The courses were really hands-on and I am really grateful for the lessons I learned for both the entrepreneurial and technical courses. The EIT Digital Master School taught me how to develop innovative products in a team and gave me the chance to present them to real world VC's in Paris. In France, for example, I presented a project to Google.'
Innovation award
In the final year of his master's, as well as his university thesis, he wrote an entrepreneurial thesis during his three-month internship at the IoT Company Relayr. Hu seemed to fit into the team perfectly and was offered a permanent job immediately after finishing his thesis in 2015. Not long after becoming an employee, Hu was appointed to a leadership role in the company, heading a team that made an automatic cocktail maker based on Wi-Fi. This was that much innovative that he won the CES 2016 innovation award.
LPWAN
Hu's achievement in leading a prizewinning project was noticed by others. Another Berlin startup offered him a job as a hardware engineering lead developing LPWAN products. He took it straight away. 'I was quite interested. LPWAN is great: it can reach over 20 kilometres in open space - much further than Wi-Fi and Bluetooth, while keeping battery life for up to ten years.' According to Hu, LPWAN is the emerging standard for connecting IoT devices. 'My team and I worked on enriching the world-class performance of the hard- and software aspects of LPWAN. In the future, a lot of things will be connected.'
Dollars
Then an offer from an American billionaire that sounded too good to refuse, changed his path. The founder of the American company Ubiquiti, Robert Pera, was interested in Hu and his team and offered them several million dollars in cash and stocks in the listed company if they would come to work for him, in America. Hu couldn't sleep for days, neither could his four team members. 'It was really a lot of money and a great opportunity. Ubiquiti is a worldwide operating company.' Meanwhile, they all quit their jobs at the startup company.
Valuable knowledge
In the end, they decided to reject the offer. Why? 'The million-dollar offer was a low price for our knowledge. It would be a one-time trade in a huge market. If we sold our knowledge, we would have nothing afterwards in a market that is worth much more than that.'
At this point in time, they had nothing: no job and no millions. The only thing they had was the awareness that their knowledge was valuable. 'We took a huge risk. If we didn't take the money, we had to find our own capital. We could not go back to our previous company.'
Start-up
There was nothing left to do but work together to set up their own business, without any euros or dollars in a competitive Berlin start-up world. Their knowledge about LPWAN showed them the way to the business. The plan was to develop hard- and software for LPWAN and become a global end2end LPWAN solution provider for sectors like farming, smart cities and logistics. They implemented Listen-Before-Talk (LBT), a technology that enables more sensors to connect and talk to the gateways. 'Only a few companies can do this.'
Their business model is inspired by the successful of Ubiquiti model, with a focus on community building. 'After our talks with Pera, everything became clear; what the business idea and the model should be and how we could develop. We decided to make MatchX great with exceptional quality and a dream to be the global leader.'
MatchX
The team kicked off MatchX in February 2017. They started to manufacture LPWAN hard- and software and delivering comprehensive IoT cloud and reporting solutions very fast. The same month, an angel investor, a high-level manager at Deutsche Telecom, invested a few hundred thousand euros in MatchX. By October, two years after Hu graduated from the EIT Digital Master School, the first sales revenues came in. In November 2017, MatchX won the Deep Tech Award 2017, a German government competition, receiving EUR 10 000 in prize money.
Series Pre-A funding
In just a short-time MatchX moved to the forefront of the Digital Data Network world. Today, MatchX has customers in over forty countries. They operate for example in Canada, US, Australia, India, Japan, Korea, South Africa and all throughout Europe. Its customers are start-ups, scaleups, big companies and multinationals, including Bosch, Deutsche Bahn, and Canadian Tires, amongst others. In February 2018, Hu secured Series A funding of two million dollars from a German investor and the American investor Pre-Angel. 'The current valuation of our business is around ten to twenty million.'
Dream
This success is just the beginning, Hu expects. 'Decentralised IoT networks are the future. There are three hundred countries in the world. We now reach forty, so there is room to grow. Facebook's business is to connect people to people. We connect things to things. The world only has six billion people to connect but there are endless billions of things. We will be big, very big.'
To get there, MatchX will continue to develop leading-edge technology in end2end LPWAN solutions. 'We will hire more developers to code these technologies. This year we expect to grow from eleven to forty employees. I foresee that in three years' time, we will have more than a hundred employees.'
To roll out products and services into more countries, Hu believes in the power of word of mouth communications. But that will not be enough. MatchX wants to join the EIT Digital Accelerator. 'That could be very beneficial for us. We need more media coverage and more business contacts. The EIT Digital network has a lot of companies in Europe that might need our technology. EIT Digital can help MatchX to become a European unicorn.'
Blockchain data market
A third strategy is using the IoT to build a blockchain data market. MatchX will pioneer the trading of data harvested from the sensors attached to the LPWAN. 'Technologies like Bluetooth, Wifi or LPWAN are just ways of getting data. Data is the goal. With our technology, you can collect a lot of common sensor data, such as location, temperature, and air moisture. These are general data so they are tradeable. Data is the new oil and we will mine this transmitted data from sensors and build a data market where people can trade and analyse data via blockchain.'
According to Hu data transaction will be a huge economy. Yet, the blockchain data market will not deliver the return on investment because it is a decentralised network. The real revenues will come from selling the corresponding hard- and software solutions people need when generating device data. Therefore, people will need MatchX.
---
Catch up with the latest news from the EIT Community in the Newsroom.
Subscribe to the EIT Newsletter to get the best of the EIT Community's news in your inbox once each month.
Do you use social media? Follow us and get updates in your news feed.