EIT Digital supported Hynnova optimises COVID-19 vaccination campaigns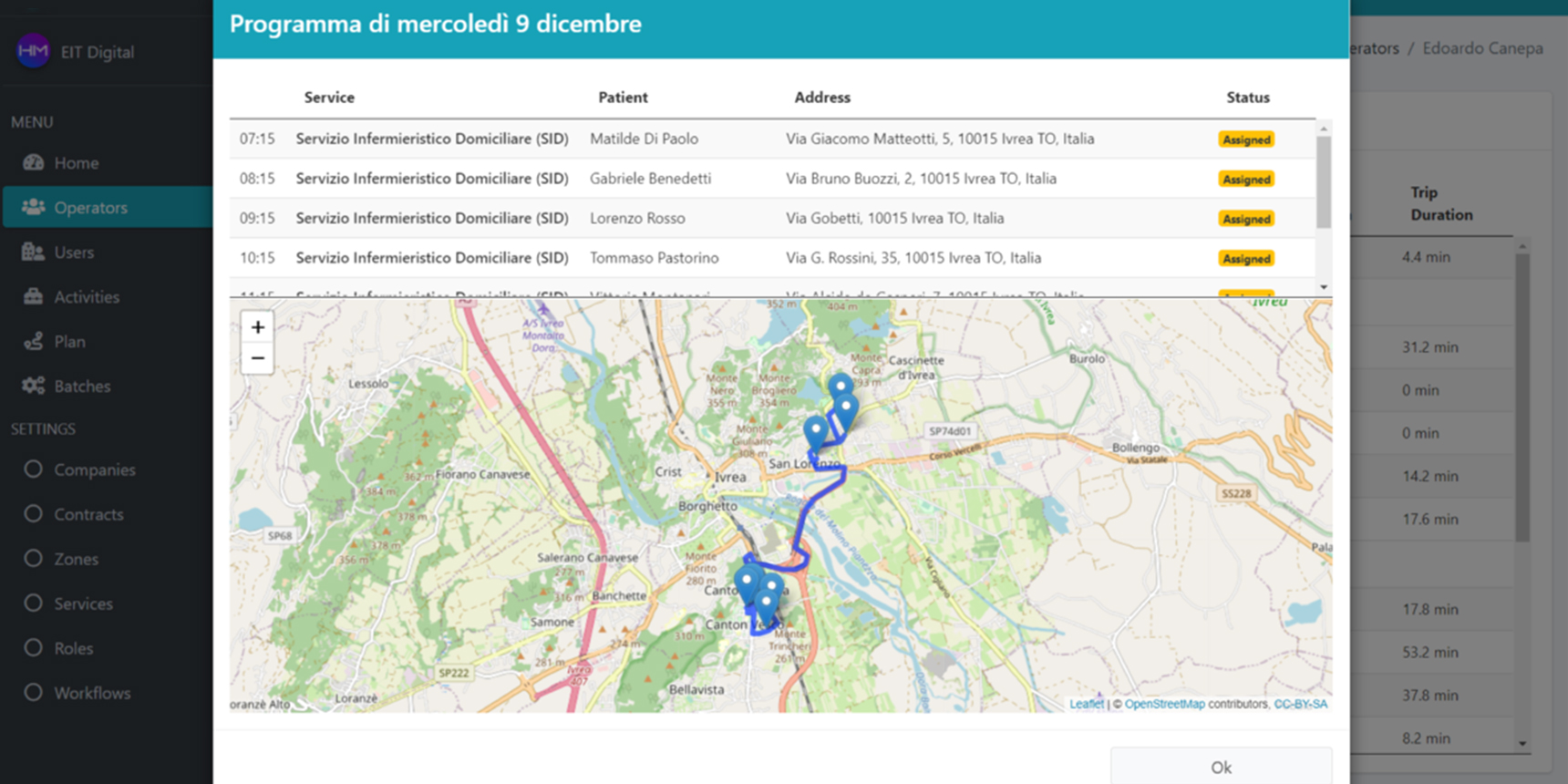 Hynnova, a start-up launched within the EIT Digital Innovation Factory, has developed two products that use machine learning to optimise the use of healthcare spaces and resources.
They are currently deployed to streamline home care activities and COVID-19 vaccination campaigns in the northern area of the Metropolitan City of Turin, in Italy. 
The Hynnova start-up, launched within the EIT Digital Innovation Factory, is set to revolutionise how home assistance and care activities are provided. It has developed a platform that uses advanced mathematics and machine learning to dynamically optimise the use of healthcare spaces and resources. 
The platform integrates information coming from three separate datasets: the activities to be carried out, the available resources, and the constraints to be respected. It then generates optimised work-programmes and optimal paths, maximising the time spent on productive activities and minimising downtime.
Hynnova's mission is particularly relevant in the current context, the spread of COVID-19 is pushing healthcare systems to operate as much as possible in a decentralised manner. Large gatherings and hospital queues need to be avoided.
In addition, the start-up's goal is consistent with the World Health Organisation's guidelines on the Ageing Society, that advocate a gradual transition from a centralised care model (hospital and nursing homes) to a decentralised one.
Hynnova is one of the activities selected by the EIT Digital Innovation Factory in mid-2020 within the Data Against Covid-19 initiative, an effort to develop digital tools to fight back the pandemic in less than six months. With the support of EIT Digital, the Hynnova start-up was launched by the Italian company Hypermynds and the Dutch company Kinetic Analysis.
In the spring of 2020, we were in full lockdown in Italy. I read an article about the EIT Digital Data Against Covid-19 initiative. With lots of ill or vulnerable people forced to stay at home, I thought it would make sense to launch a venture that develops a dedicated digital solution.

Luca Calvetti, Founder and Chairman of Hypermynds
Vivisol, one of the main European groups operating in home care, was Hynnova's first customer, purchasing from Hynnova in December 2020. In the meantime, Hynnova developed a new solution, called ASC Smart Booking, to manage and optimise vaccination campaigns.
The solution allocates available resources in the best possible way and it is specifically tailored to address the constraints of vaccination campaigns. 
One constraint is time: some COVID-19 vaccines currently available need to be administered within a few hours after unfreezing. Vials can contain up to six doses, which means that, to avoid waste, as many patients must be available in the given timeframe. This is not a trivial task, considering that there might be delays, no-shows and other issues.

Luca Calvetti, Founder and Chairman of Hypermynds
The sensitivity, complexity and importance of optimising resources in this field, helps explain why ASC Smart Booking immediately raised significant interest.
At the end of January, Hynnova closed a deal with ASL Torino 4, the local public health company serving the Metropolitan city of Turin's northern area and its 520 000 citizens. 
As part of the contract, ASL Torino 4 will use both solutions: ASC Home Healthcare to manage its day-to-day home assistance and care activities operations, and ASC Smart Booking to optimise the local vaccination campaign. And this is just the beginning.
We are discussing possible deals with several other Italian local public health companies. In Italy, there are 110 of them. If just a few of these deals are finalised, we will become profitable, skipping the seed phase and scaling the company.

Luca Calvetti, Founder and Chairman of Hypermynds
With an international mindset: national and local healthcare authorities across Europe are struggling to provide timely and effective services in the midst of the pandemic. Hynnova offers a compelling proposition that perfectly suits their needs. 
Hynnova is now ready for an investment round to fuel its growth.