EIT Food hosts conference to explore how to build a resilient and sustainable agrifood ecosystem
EIT Food's "Building a Resilient, Sustainable Agrifood System" event, organised by our North West and West regions in Edinburgh on 10-11 May 2022, explored our need for a transformed agrifood sector that is able to meet the economic, social and environmental challenges of feeding a growing global population sustainably.
Innovation and technologies are essential to transform the agrifood sector
Our agrifood sector is inundated with economic, environmental, and social challenges from inefficient food production methods to high levels of food loss and waste. The challenges might seem great, however the agrifood community is using these as opportunities to optimise and develop innovations and technologies which address a number of the issues we are currently facing. For instance, some of those presented at the event included:
Agrifood stakeholders share similar challenges
The EIT Food event bought together key stakeholders across academia, research, social enterprise, investment and industry that work within in the agrifood sector. Importantly, many different stakeholders have shared challenges when undertaking food systems innovation. These include:
Growing and scaling-up businesses that offer innovative solutions
Understanding what funding schemes and activities are available to participate in
Finding other companies to collaborate and form consortia with
The event explored some of the solutions to these challenges, including:
Using public-private partnerships to help promising new companies to grow and scale. This was presented by Chris Danks, Innovate Lead at UK Research and Innovation (UKRI)
Awareness of who the key agrifood funders are and what schemes that have available. This was presented by David Telford, Head of Agrifood at Innovate UK KTN
Discovering network organisations that facilitate consortia-building in food systems innovation. For example, EIT Food's community brings together key players from farm-to fork and works closely with other membership organisations.
"It was great to participate in my first EIT Food conference. As Chairperson of the EIT Food Supervisory Board I believe it's important to get a full understanding of whats going on in the field. Listening to the presentations and discussing with the partners gave me precious insights. Thank you for the great organisation and positive energy that was certainly in the room."

Michiel De Ruiter, Chairperson of EIT Food's Supervisory Board
 The importance of collaboration to innovate the agrifood system
Inclusive collaboration is key in developing solutions that can help to transform our food system. Bringing together stakeholders from different background paves the way for new, diverse consortia to form, based on people and companies with different skills and capabilities.
"The EIT Food event brought together industry and policy experts with a key focus on resilient

sustainable agrifood system which is very linked to IntelliDigest mission to empower food system sustainability. It provided a great opportunity to share our technology innovations -world food tracker, iDigest and iSaver, Plan To Save Campaign and capacity building food system sustainability programme as well as learn about other amazing projects. More importantly, the event provided a fantastic networking opportunity to build partnerships that will deliver enormous benefit for the food system."

Dr Ifeyinwa Kanu, CEO of IntelliDigest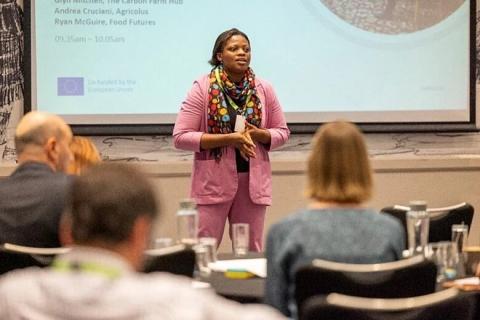 An ideation and consortia-building session at the event enabled collaboration between participants to envisage new and optimised solutions for a resilient and sustainable food system. There was also an opportunity for companies to pitch in-front of other delegates to encourage new connections and collaborations to form. This included pitches from:
"The event highlighted the importance of collaboration in food systems transformation. We need to continue to invite all stakeholders across the food supply chain to play a part in innovation, as different skills and capabilities is what's needed to make an impact. It was fantastic to be able to bring together EIT Food Partners to re-connect in-person, whilst also giving the spotlight to new people and organisations in the agrifood space."

 Dr Jayne Brookman, EIT Food North West Director