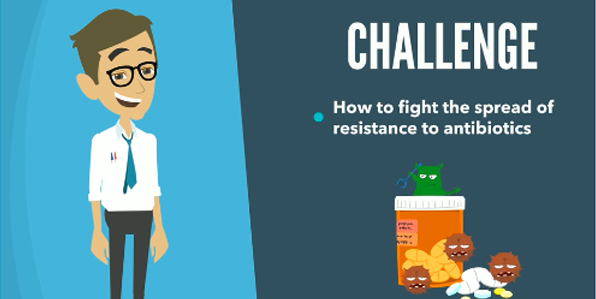 Teams from eight universities will present their ideas for addressing the growing problem of medicines losing their effectiveness against bacteria.
The Global Health case Challenge on Antibiotic Resistance will take place on18 November. It is an event developed through a collaboration between the EIT Health CAMPUS programme, the World Health Organization Regional Office for Europe and the University of Copenhagen.
Student teams have until 27 October to sign up for the contest, intended to help WHO Europe find solutions to one of the world's greatest health challenges. They will have a day to prepare before pitching in front of a jury, and anyone else interested in attending the 18 November event.
Antibiotic resistance challenges our ability to treat infections and undermines the progress of modern medicine. Common infections and minor injuries can potentially be lethal in a post-antibiotic era. This case challenge asks students to address the challenge of antibiotic resistance and to develop their own solutions by thinking innovatively and working cross-disciplinarily.
In a case challenge, the teams participating strive to develop the best solution to a real-world issue presented by a business or organisation – most often, as in this case, within a 24-hour time-span. Each team presents their solution both in writing and as a short oral pitch (10 minutes) to a jury.
The selected teams will work on their solutions in Copenhagen on 17-18 November and one team's solution will be singled out as the case winner. The winning team will travel to Barcelona to pitch their solution at the 23-24 November EIT Health Summit and at the Barcelona Institute for Global Health in front of medical science and innovation experts.
The Case Challenge is open to students from EIT Health university partners (University of Copenhagen, Uppsala University, Karolinska Institute, University of Oxford, Imperial College London and Newcastle University) and students from CBS and DTU. The event at the University of Copenhagen is being arranged and hosted by the School of Global Health, SUND Innovation Hub and the Section for General Practice at the Faculty of Health and Medical Sciences.
The Global Health Case Challenge on Antibiotic Resistance is just one of the many EIT Health Innovation Day (iDay) events in Scandinavia. The iDay will take place on 18 November and involve thousands of students in a variety of activities – at Uppsala University and Karolinska Institute in Sweden, as well as the University of Copenhagen in Denmark. The iDay in Scandinavia, and another in the UK, are part of the Innovation Skills for Students stream of EIT Health CAMPUS activities.
Get further information about the Global Health Case Challenge on Antibiotic Resistance here.
Sign up to attend as an audience member here.
See a video on the event below:
Global Health Case Challenge on Antibiotic Resistance from Global Health Case Challenge on Vimeo.
Catch up with the latest news from the EIT Community in the Newsroom.
Subscribe to the EIT Newsletter to get the best of the EIT Community's news in your inbox once each month.
Engage with us