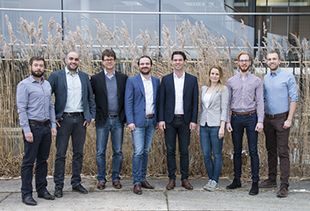 Tubulis has raised €10.7 million to advance development of a new generation of antibody-drug conjugates with the support of six investors, including two from the EIT Health Investor Network – BioMedPartners and Seventure Partners.
The EIT Health Investor Network facilitates early-stage fundraising across Europe to help accelerate promising start-ups. The network connects qualified companies seeking funding with a pool of selected European investors. In recent months Investor Network companies have raised funding with some of our members such as TeiaCare €1.1m, Wefight €1.8m and InHeart €3.7m.
For Tubulis, the financing round was co-led by BioMedPartners and High-Tech Gründerfonds (HTGF) with support from Seventure Partners, Coparion, Bayern Kapital, and OCCIDENT alongside significant contributions by high net worth individuals and the founders. Tubulis was spun out in 2019 from the Leibniz Research Institute in Berlin (FMP) and the Ludwig Maximilians University (LMU) in Munich with the aim of expanding the therapeutic potential of ADCs for cancer and other disease indications.
Tubulis' objective is to use our dual platform approach to generate uniquely matched and disease-specific ADCs that combine selective antibodies with effective payloads. The funding committed by this experienced syndicate represents a validation of our technology and reflects the recent renaissance in ADC development in our industry. These proceeds will enable us to continue validating our platforms and to move our first two selected ADC candidates towards the clinic

-Dominik Schumacher, CEO and Co-founder of Tubulis.
Tubulis is tackling the limitations of current ADCs head-on and is helping to shape the future of ADCs for the treatment of a broad range of diseases. We look forward to supporting the team at Tubulis as they continue to build the company in a growing field with a high need for innovative solutions.

-Michael Wacker, Partner at BioMed Partners