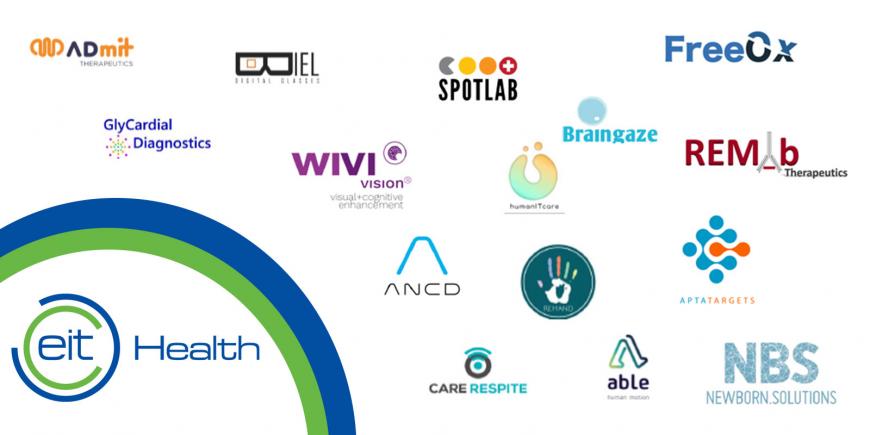 EIT Health will support early-stage start-ups
EIT Health Spain has announced 15 local winners of Headstart funds – which are grants designed to help early-stage companies and SMEs develop their new products and services.
Headstart funding comes with a maximum EIT Health contribution of EUR 50 000 and is intended to:
support participants in realising next steps towards the market and shortening time-to-market for innovative products and services;
verify the need/benefit of participant's product/service for users/customers/payers/partners;
increase the possibility of attracting further private investment.
The following start-ups will receive Headstart funding:
Medtech category
WIVI Vision is an immersive 3D technology to assess and improve children's visual dysfunctions

New Born Solutions develops first- in-class medical devices for quick, easy, painless and efficient detection of infections, with the focus being on infant meningitis.

GlyCardial Diagnostics is a Barcelona-based spin-off company of the Sant Pau Hospital Research Institute and CSIC (Spanish National Research Council) focused on the development of a novel in vitro diagnostic (IVD) test for the detection of ApoJ-Glyc blood levels for the early diagnosis of cardiac ischemia and the prediction of patient's evolution.

ADmit Therapeutics is a spin-off from Bellvitge Biomedical Research Institute, and focused on the development of a novel Alzheimer's disease (AD) early detection test.

Biel Smartgaze creates digital glasses that increase the autonomy of people who have low vision.

Spotlab creates a new generation of telemedicine solutions to reduce the time, costs and distances of image diagnosis.

ABLE Human Motion, a spin-off from Polytechnic University of Catalonia, developed the first home use, affordable and lightweight exoskeleton that restores the ability to walk naturally and intuitively. ABLE is composed by a motor plus gearbox that act as a muscle and an inertial sensor to detect the user's intention. It helps in palliating health issues caused by sedentary lifestyle while boosting self-confidence and independence.

Anaconda Biomed focuses on the development of a new disruptive generation of catheters for the treatment of acute ischemic strokes by using mechanical thrombectomies.
Biotech category
AptaTargets is developing ApTOLL, an immune modulator that offers a novel approach to treat a stroke in the acute phase and substantially reduce brain damage.

RemAb Therapeutics, a spin-off of Bellvitge Biomedical Research Institute, aims to develop polymeric glycoconjugates for removing antibodies to provide health solutions.

FreeOx Biotech focuses on developing medicines addressed to reduce the effects of oxidative stress in an organism, especially those related to the neurological and cardiovascular systems.
Digital category
Braingaze transforms mental health care by developing technology that enables accurate psychiatric home-care.

ReHand is an innovative solution for the traumatic rehabilitation of the wrist, hand and fingers that aims to displace the traditional exercise protocols on paper.

HumanlTcare monitors the course of disease in mental health conditions, using artificial intelligence.

e-CARER is a non-intrusive, remote monitoring technology that can automatically detect particular behaviours of dependent citizens in their homes.
---
Catch up with the latest news from the EIT Community in the Newsroom.
Subscribe to the EIT Newsletter to get the best of the EIT Community's news in your inbox once each month.
Do you use social media? Follow us and get updates in your news feed.