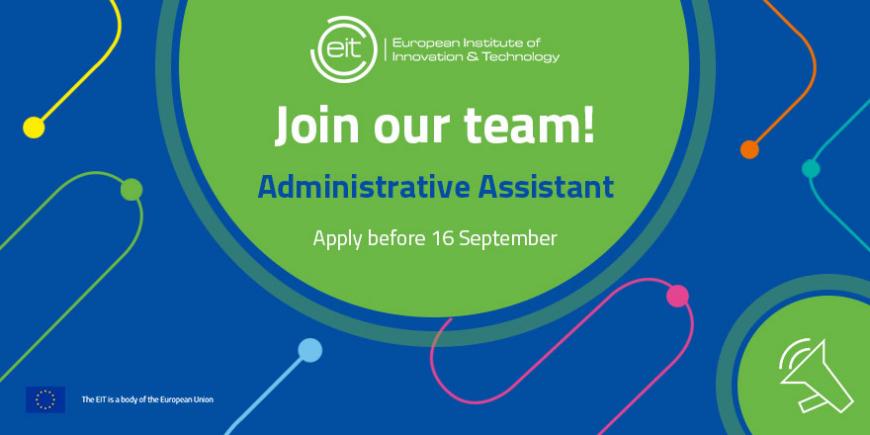 The EIT is organising a call for expressions of interest with a view to establishing a reserve list for Temporary Staff (TA) for the profile of Administrative Assistant.
The successful candidate(s) will be part of either one of the following core operational units of the EIT, namely the 'Innovation Communities' Unit, the 'Strategy and Impact' Unit or the 'Communications and Stakeholder Relations' Unit.
The Innovation Communities Unit is primarily responsible for supervising, monitoring and assessing the portfolio of activities of Innovation Communities. Innovation Communities address major societal challenges by fostering innovation.
The Communications and Stakeholder Relations Unit is responsible for the EIT's external Communications activities, engagement with the EIT's internal and external stakeholders, as well for the provision of policy and strategic advice to the EIT Director and developing and implementing the EIT's communication and stakeholder engagement strategy.
The Strategy and Impact Unit is leading EIT's strategy development across its main domains including education, business creation and innovation agendas. The Unit conducts reviews, evaluations and assessments.
Tasks
Depending on the assignment to one of the operational units mentioned above, the jobholder should contribute to the EIT's work in the above areas by carrying out any of the following tasks and activities:
Provide transversal support to administrative processes and horizontal activities within the Unit, including planning, organising and following up of meetings and organisation of missions and logistics and development and maintenance of standard operating procedures and databases.
Draft letters, notes, minutes, presentations and reports as well as prepare internal administrative files.
Contribute to the financial and operational management in the area of responsibility, including procurements, implementation of contracts, payments and reporting.
Ensure proper document management, register and allocate incoming and outgoing mail.
Provide support to the development and implementation of policy processes relevant to the work of the EIT.
Support in establishing and maintaining relations with EIT stakeholders.
Provide support to projects.
The jobholder may be asked to carry out any other operational or administrative tasks corresponding to the grade and function, as deemed necessary in the interest of the service.
The place of employment will be Budapest, where the EIT seat is located.
Deadline for applications: 16 September 2019 (13:00 CET Budapest time)