Young, bright and business-savvy ICT Doctoral students with a strong head for innovation - that is what companies that get involved in EIT ICT Labs Doctoral School can expect. The aim is to make the young doctors commercially aware research leaders, ready to take on new challenges in the forefront of European ICT industry.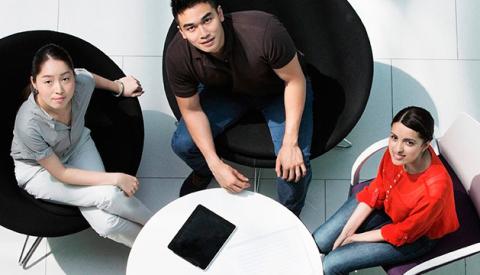 "At a technical level these Doctoral students will be comparable with recruits from regular university programs. However, our Doctoral students will have extras. They will receive innovation and entrepreneurship (I&E) education and have better business sense, as well as developed skills in team working in an open innovation setting," says EIT ICT Labs CEO Willem Jonker.
"The I&E elements give the Doctoral students the ability to see their research from a business point of view. It makes them raise the question how their own research results may be useful for the industry. And this insight also influences their professors way of thinking," says EIT ICT Labs Doctoral School Director Christian Queinnec.
Business partners will find recruits already up to speed
Recruiting companies can benefit strongly from recruits that are already up to speed on subjects such as patent landscaping and business models. These PhDs will learn how good publications and good patents can reinforce each other, rather than being unrelated elements.
They also learn about how the innovation landscape and ecosystems work, how to found their own start-up, and get introduced to venture capital and early seeding. Traditional doctoral students work quite isolated from each other - here they become embedded in the European innovation ecosystem.
Benefit from a broad network
The mobility element built in to the EIT ICT Labs Doctoral School naturally gives business and academic supervisors new and potentially fruitful contacts.
"The cross fertilization between different industries within the EIT ICT Labs Doctoral School, is also a strong business competition factor. We are creating a meeting place where people exchange ideas between different disciplines and fields. A vibrant place for innovation," underlines Willem Jonker.
To ensure this, a number of Doctoral Training Centres, DTCs, has been founded. The DTCs supports the Doctoral students, their supervisors and business representatives in creating an open and creative environment.
"We are looking for supervisors from the industry, actively participating in the coaching of their doctoral students, and really making sure that there is a bridge between research and industry. We want key people from the industry to take active part in the advisory boards of the DTCs, to offer advice on the content of the program, and decide which topics should be dealt with, says Christian Queinnec.
For more information see www.doctoralschool.eitictlabs.eu