The second HealthSPA was held on 10 April at the EIT ICT Labs Co-location Centre in the Open Innovation House Espoo, Finland.
The networking event for the health and wellbeing cluster brought together 130 persons and 30 companies to demonstrate their services and products. "There are a lot of things bubbling in health & wellness sector in Finland and we want to bring together creators to discuss best practices, collaboration and internationalization all in the spirit of open innovation", says Christian Lindholm, one of the organizers of HealthSPA and CEO of Koru.
Motivade selects HealthSPA as their launch event
One of the participating start-ups was Motivade that launched their social exercise motivator servicemotivade.com at the event. The service features pin-up style virtual trainers with different personalities and coaching styles. The positive social pressure from your friends and Motivade's virtual trainers will help you reach your fitness goals.
"What a fantastic opportunity to launch Motivade at Health Spa 0.2. We got a lot of positive and encouraging feedback from the participants showing there is a need to be Motivaded", explains Jarkko Autio, CEO of Motivade.
Aemdee wins pitching competition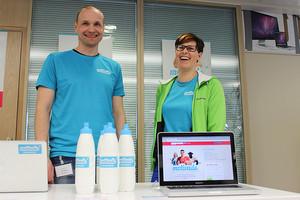 Aemdee is the first treatment performance evaluation system intended for new pharmaceutical products that helps doctors to quickly assess the real-life effects of a new treatment, including efficacy, safety and most potential patient groups. The chairman of the jury Marko Turpeinen commented that the jury was convinced by Aemdee's market-driven approach to post-launch testing of medicine effectiveness, strong background domain knowledge in pharmaceutical industry, and feasible go-to-market strategy.
International flavour to HealthSPA
HealthSPA had a more international flavour with several small health and wellbeing companies from across Europe visiting to demonstrate their solutions and actively network with the local audience. They encouraged to take the concept of HealthSPA to other EIT locations as it proved to be an excellent clustering event stimulating open innovation.