Last week, EIT ICT Labs kicked off the second submission round of the EU wide Idea Challenge. For the second time this year, twelve talented ICT teams have the opportunity to win 320,000 Euro in total, coaching from the EIT ICT Labs Business Development Accelerator and six months office space at one of the Co-location Centres in Europe. Additionally, winning the Idea Challenge also means access to the large innovation network of EIT ICT Labs with over 120 partners including some of Europe's and the world's biggest ICT companies as well as leading universities and research institutes.
As successful entrepreneur and initiator of Founder.org, Michael Baum is dedicated to support talents on their paths to found sustainable businesses. That is also why he participated in spring 2014 as Idea Challenge jury member and evaluated the best ideas. He says: "It's important to back innovators with the brightest ideas at an early stage to improve the odds that more young companies not only survive, but thrive and positively transform the world."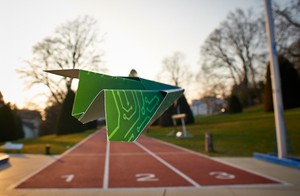 The first round of the Idea Challenge drew over 300 entries from 25 EU countries. Twelve European startups are already working closely with the EIT ICT Labs Business Accelerator to further develop their ideas.
"By winning the EIT ICT Labs Idea Challenge we instantly got access to potential partners, met other companies from the Health & Wellbeing community and were provided with the chance to attend major industry events", says Jörg land, Co-founder of Tinnitracks and first prize winner in the category Health & Wellbeing. "As an entrepreneur I do appreciate these opportunities. I am confident that being a member of EIT ICT Labs will support us to expand our business and enter international markets."
The contest
EIT ICT Labs calls entrepreneurs with the drive to found a business to submit ideas that address the topics Smart Energy Systems, Internet of Things, Cyber Security & Privacy, and Urban Life & Mobility. The best teams will be invited to Berlin, London, Trento, or Stockholm (depending on the topic) and receive the chance to pitch their ideas in front of an expert jury, investors and media representatives. The finalists will receive 500 Euro to cover the travel expenses. And what's really best about it: Winners don't need to give up any equity since the EU publicly funds the Idea Challenge.
Submit your idea
Applications can be submitted between the 1st and the 30th of September 2014. Time for action! Information and submission at www.ideachallenge.eitictlabs.eu.