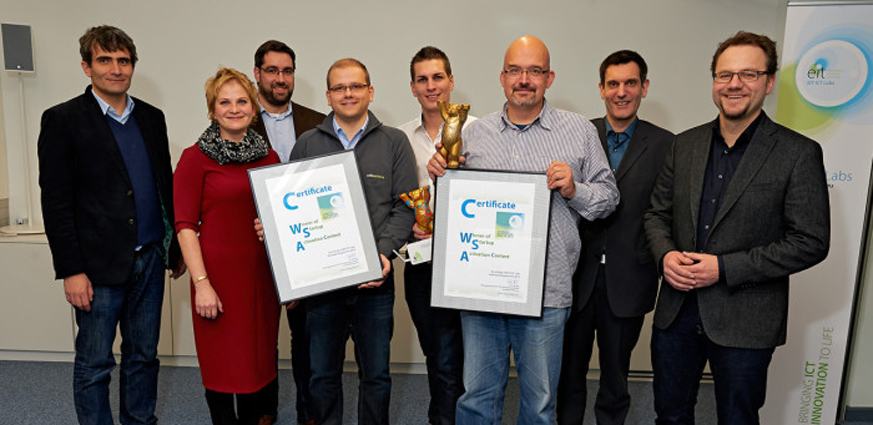 Early-stage startups LineMetrics from Austria and Transmetrics from Bulgaria are both winners of 30.000 Euro in an international idea contest organised by EIT ICT Labs Germany.
They were announced as the two best of nine pitches presented today in the Berlin Co-Location Center of EIT ICT Labs. With the prize money the startups will further develop their service or product.
I am impressed by the presentations of inspiring innovators from all over Europe, executed in our Co-Location Center today. We welcome those entrepreneurs into our existing network of partners and activities in research, industry and education. I see this day as the joyful starting point of our fruitful cooperation.

Dr. Udo Bub, Managing Director of EIT ICT Labs Germany and chair of the jury

Transmetrics, a startup represented by its CEO Asparuh Koev, pitched a big data solution for cargo transport to improve capacity optimization. Transmetrics builds a predictive analytics cloud solution, which enables companies to forecast their shipping demand.
I am thrilled to win this contest. We will be able to extend our pilot project with some three months now, resulting in an even better product development.

Asparuh Koev, CEO of Transmetrics
It is a great honour to win this contest, where so many good ideas were presented.

Wolfgang Hafenscher, CEO of LineMetrics
His business pitch consists of a hardware system for data acquisition and communications servicing the manufacturing industry. "We will invest the prize money to create more jobs at LineMetrics".
Over 50 applications from 17 countries were submitted. After revision by a jury of experts in the field of Cyber-Physical Systems and Future Cloud as well as business modeling specialists, nine promising startups and entrepreneurs from eight countries were selected as finalists. Bub and his jury particularly praised the business fit of all ideas during the award ceremony.
The international startup activation contest in Berlin is part of EIT ICT Labs' outreach programme that aims to involve European countries outside the existing network of nine countries, being France, Finland, Germany, Hungary, Italy, the Netherlands, Spain, Sweden and the United Kingdom.
Related News: