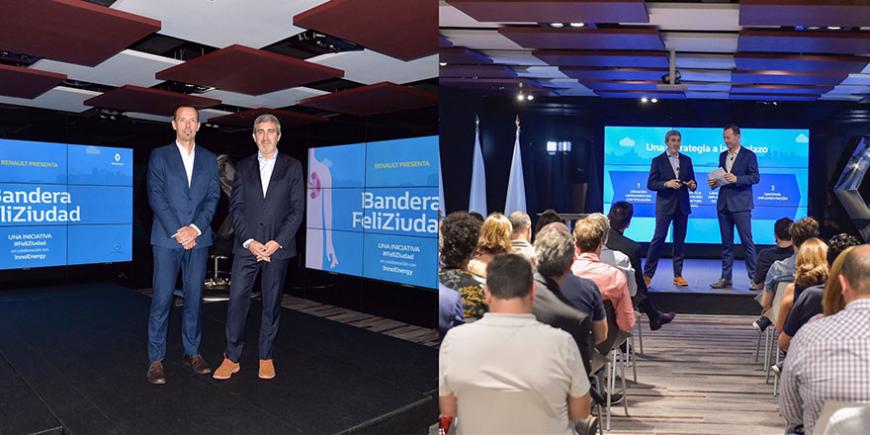 EIT InnoEnergy will provide a method of assessment for FeliZiudad, Renault's sustainable community initiative.
FeliZiudad, a project that is transforming the lives of citizens through neighbourhood initiatives, will benefit from formal endorsement thanks to a partnership signed between Renault and EIT InnoEnergy, the European innovation engine for sustainable energy.
The endorsement scheme will assess initiatives supported through FeliZiudad, a platform which seeks to help make neighbourhoods, cities and towns become more sustainable, and a happier places to live.
EIT InnoEnergy will design, implement and manage the endorsement process which will assess projects against their contribution to sustainable mobility, energy and buildings, neighbourhood habitability and social cohesion.
The endorsement will include a specific logo to be used publicly by the award-winning neighbourhoods. The scheme will be piloted in five neighbourhoods initially, before being rolled out across Spain.
The concept has been linked to the iconic Blue Flag scheme which has helped thousands of communities connect with and protect the biodiversity of their coastlines. The endorsement will help celebrate and draw visitors to those communities seeking to live more sustainable lifestyles.
We are delighted to collaborate with EIT InnoEnergy, partner, independent leader in sustainable energy innovation in Europe, solid, reliable and internationally renowned, to develop this pioneering idea in our country, within the great project FeliZiudad.

Jesus Presa, Director of Communication at Renault Iberia
Collaborating in such an ambitious project with Renault, a leading company worldwide, gives us the opportunity to expand our mission of sustainability throughout society and thus contribute to a better quality of life of the citizen.

Mikel Lasa, CEO of EIT InnoEnergy Iberia
The platform, which was launched earlier this year on World Happiness Day, already has more than 35 initiatives registered from across Spain including Madrid, Catalonia, the Basque Country, Galicia and the Valencian community of Aragon. Projects include a social garden, established to bring generations together to share experiences and teachings and combat loneliness, and the bike co-operative Biciclot which refurbishes old bikes while also teaching young people and adults about bike maintenance and repair.
The partnership will also see EIT InnoEnergy develop a Citizen Initiatives Program which will include an element of reward for the most impactful initiatives.