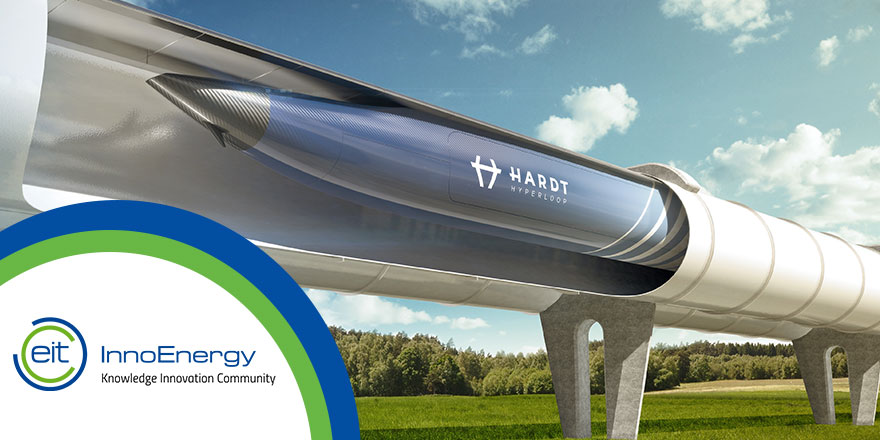 The investment will help Hardt Hyperloop expand in Europe
EIT InnoEnergy, the European community for knowledge and innovation in sustainable energy, is investing up to EUR 5 million in Hardt Hyperloop. Hardt, the Dutch start-up that is developing the hyperloop in Europe, is investing the funds in the consortium that has been established to realise the hyperloop in Europe. Deutsche Bahn, represented by DB Engineering & Consulting, Continental and Engie Laborelec have announced today that they are joining the consortium. This consortium's activities focus on starting the process of standardising and regulating the technology behind the hyperloop to accelerate its successful implementation in Europe.
The investment by EIT InnoEnergy is part of a bigger round of investments for which Hardt is still seeking other parties to join. Tim Houter, CEO Hardt Hyperloop: 'We're delighted with the investment of five million euros in Hardt Hyperloop. EIT InnoEnergy makes it clear through this investment that the development of the hyperloop has entered a new phase. It also highlights the importance and urgency of investing in the development of a cleaner and better alternative to long-haul transport. Hardt Hyperloop believes EIT InnoEnergy's pledge will encourage other investors to join this round of investments'.
Sustainable alternative
Making the transport sector more sustainable is a key item on the European Community agenda and, given the recent discussions on the sharp increase in the number of flight movements, the hyperloop is being named as a sustainable alternative. Lucienne Krosse of EIT InnoEnergy: 'The hyperloop uses clean energy and is perfect for commuters between the major European cities. With the exponential growth in air traffic and the related CO2 emissions, it is vitally important that the development of the hyperloop receives an extra boost to accelerate the actual implementation and European rollout.'
European hyperloop consortium
Hardt initiated a consortium with Royal BAM Group, Tata Steel and Royal IHC in April of this year that focuses on the hyperloop's technological development. With the addition of DB Engineering & Consulting, Continental and Engie Laborelec, the consortium now encompasses a strong combination of key innovators from the industrial sector, each with their own expertise. Tim Houter: 'This consortium is a movement of industrial partners who are working together to realise the hyperloop. Collaboration at this level is crucial. We're delighted with these new partners.'
---
Subscribe to the EIT Newsletter to get the best of the EIT Community's news in your inbox once each month.
Do you use social media? Follow us and get updates in your news feed.