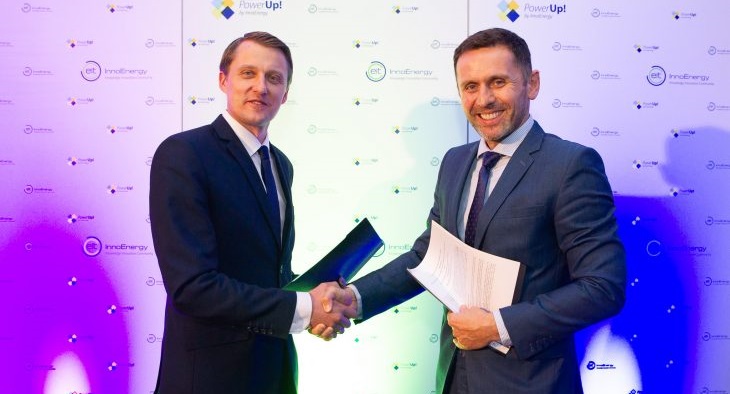 Together towards a more sustainable energy future
Lithuanian Ministry of Energy becomes the first of a kind partner within EIT InnoEnergy's network. Strengthening ties aims to connect local ecosystem with best European innovators and provide better access to international network of investors, experts, corporations and customers.
Lithuanian Minister of Energy Žygimantas Vaičiūnas and EIT InnoEnergy Central Europe CEO Jakub Miler signed a cooperation agreement under which both parties will carry out joint activities supporting the development of energy innovation. The official signing of the document took place on 15 May in Vilnius Tech Park during the Country Finals of the PowerUp! start-up competition.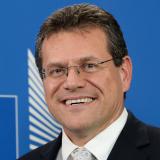 This new partnership can serve as a catalyst for the Lithuanian energy sector to foster collaboration with other actors – be it investors or innovators – and to transform ideas into a market reality. EIT InnoEnergy with its various regional offices is the best example of a European innovation incubator that have helped tens of projects off the ground by blending public and private financing – says Maroš Šefčovič, Vice-President of the European Commission.
Lithuania is already well-known for its achievements in renewable energy development and energy innovation. By becoming an official partner of the largest European energy innovation network, we are determined to develop energy transformation technologies in Lithuania and bring the benefits of innovation to the consumers. In addition, it is a step towards successful practical implementation of the National Energy Independence Strategy itself as innovation is one of four key pillars of a new Lithuanian National Energy Independence Strategy. Finally, by becoming an official partner of the EIT InnoEnergy's trusted ecosystem we will continue to show our leadership not only in the field of energy security, but also of being a frontrunner in energy transformation – says Žygimantas Vaičiūnas, Minister of Energy of the the Republic of Lithuania.
Being the first Ministry within our network reiterates Lithuanian ambition to contribute to the creation of new directions within the European market and its courage to play a leading role in the ongoing revolution in the global energy and mobility market – says Jakub Miler, Chief Executive Officer of EIT InnoEnergy Central Europe.
According to the Minister, cooperation with EIT InnoEnergy includes promoting the research and industrial development of the most promising energy technologies and innovation incubators, distributed energy generation development, and digital solution application in the field of energy as well as exports of Lithuanian energy-related products and competencies.
The Ministry will become an active participant of the EIT InnoEnergy community, taking part in prestigious industry events, training programs, and prioritizing collaboration with innovators across Europe.
Thanks to cooperation, Lithuanian energy sector will now have better access to international network of investors, experts, corporations and customers and to prestigious accelerator programmes, transforming ideas and projects into a market reality. For growing energy SMEs, EIT InnoEnergy offers support in the form of expansion to European markets or additional funding. Larger companies have the opportunity to work with the most promising European energy start-ups and receive funding to bring innovations to the market. EIT InnoEnergy also provides master and doctoral studies for future energy leaders, as well as international programs, internships, or student involvement in corporate projects.
---
Catch up with the latest news from the EIT Community in the Newsroom.
Subscribe to the EIT Newsletter to get the best of the EIT Community's news in your inbox once each month.
Do you use social media? Follow us and get updates in your news feed.