EIT InnoEnergy secures over EUR 140 million in private placement round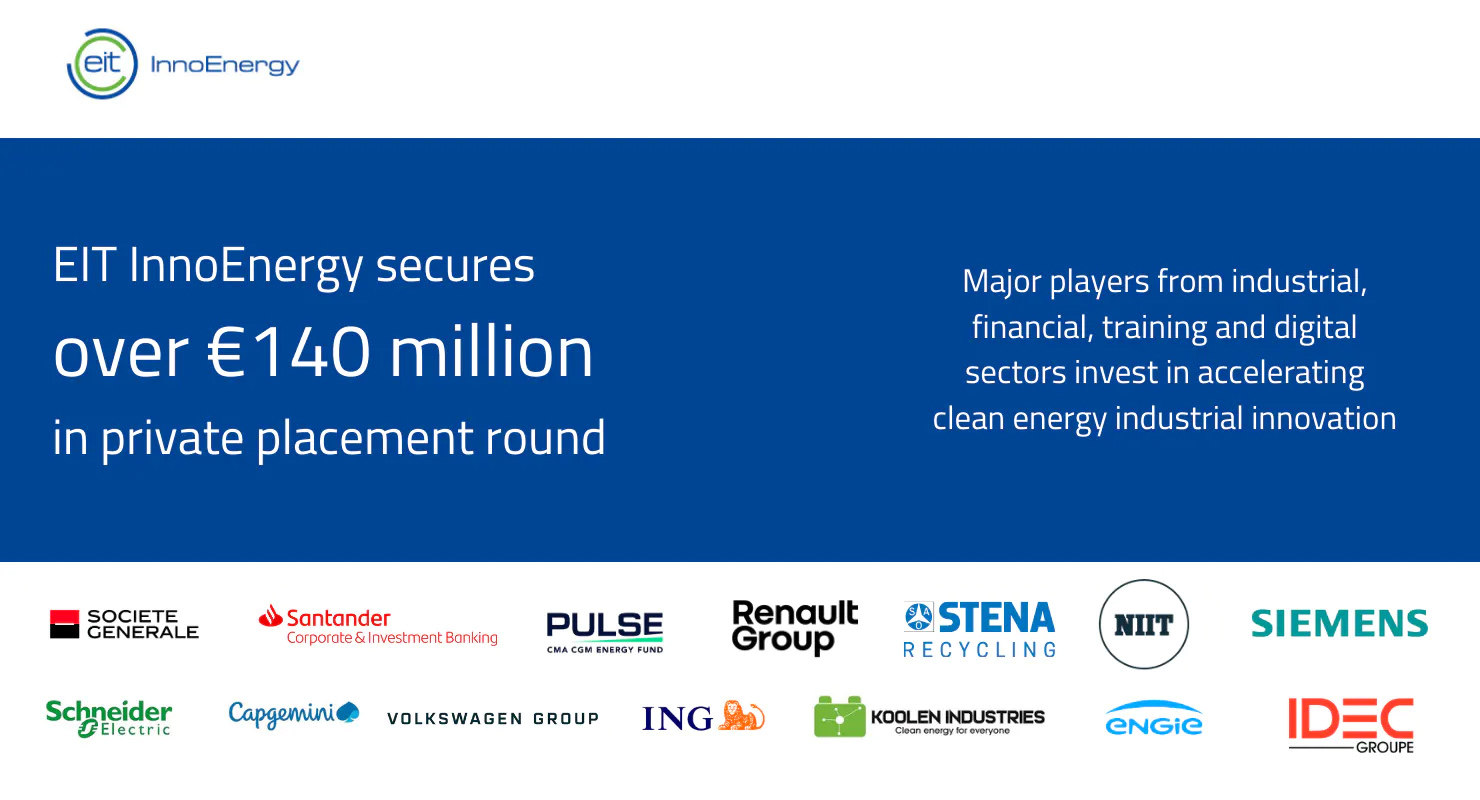 EIT InnoEnergy, the leading innovation engine in sustainable energy, today announces successful completion of its private placement round of over EUR 140 million of equity.
Investors in this round are new strategic players (Societe Generale, Santander CIB, PULSE – CMA CGM Energy Fund, Renault Group, Stena Recycling and NIIT), and existing shareholders (Siemens Financial Services, Schneider Electric, Capgemini, Volkswagen Group, ING, Koolen Industries, GROUPE IDEC and Engie). 
The proceeds will be used for increasing new deal flow, accompanying the current 200 portfolio companies in their growth, accelerate the successful launch of new industrial champions such as InnoEnergy company builders and capturing the opportunities created by new regulatory frameworks, and boosting the expansion in the US. 
Accelerating, de-risking and boosting global business cases
InnoEnergy's deal flow is in early-stage innovative technologies and teams in clean tech, normally CAPEX heavy. InnoEnergy accelerates, de-risks and boosts global business cases through its unique and trusted ecosystem of more than 1200 partners. The managed ecosystem incorporates industrial players of all sizes, investors (public and private, equity and debt), academia, research centres and public administration. Since its inception in 2010, InnoEnergy provides support to global innovators through their full life cycle (from early stage to industrial scale), with a one stop shop model. 
The objectives of the private placement have been delivered. New strategic players have joined InnoEnergy's outstanding cap table, several shareholders have reinvested, and altogether we have secured sufficient fresh financial resources to double our on-going impact. The accelerated energy transition in Europe and in the world, and an increased re-industrialization ambition in the western world are unique opportunities for InnoEnergy, its portfolio companies and our trusted ecosystem partners. We have geared up for the journey ahead. We are in a mission since 2010, and we continue delivering. 

Diego Pavia, CEO of EIT InnoEnergy
InnoEnergy currently has a portfolio of 200 companies, three of which are unicorns, on track to generate EUR 110 billion in revenue and save 2.1G tonnes of CO2e accumulatively by 2030. Collectively, these companies have raised EUR 9.7 billion in investment to date. This private placement round accelerates InnoEnergy's role in turning Europe's ambitions to reach its 2050 net zero objective into a reality, after being the first economy in the world to enshrine it in climate law. 
Congratulations to EIT InnoEnergy, its partners and new investors on this important milestone. I am delighted to see that over the years EIT InnoEnergy has become a key part of the European Union's energy transition, leveraging private investments to contribute to the European Green Deal. Because of their excellent team and consistent strategy, they were able to gain this new investment that will enable them to continue scaling up their work in delivering game-changing innovations. Today, we are also celebrating the success of the EIT's unique innovation model in creating financially sustainable pan-European ecosystems that create a lasting impact.

Martin Kern, EIT Director