EIT InnoEnergy selected through Phase One of New York Clean Transportation Prizes Program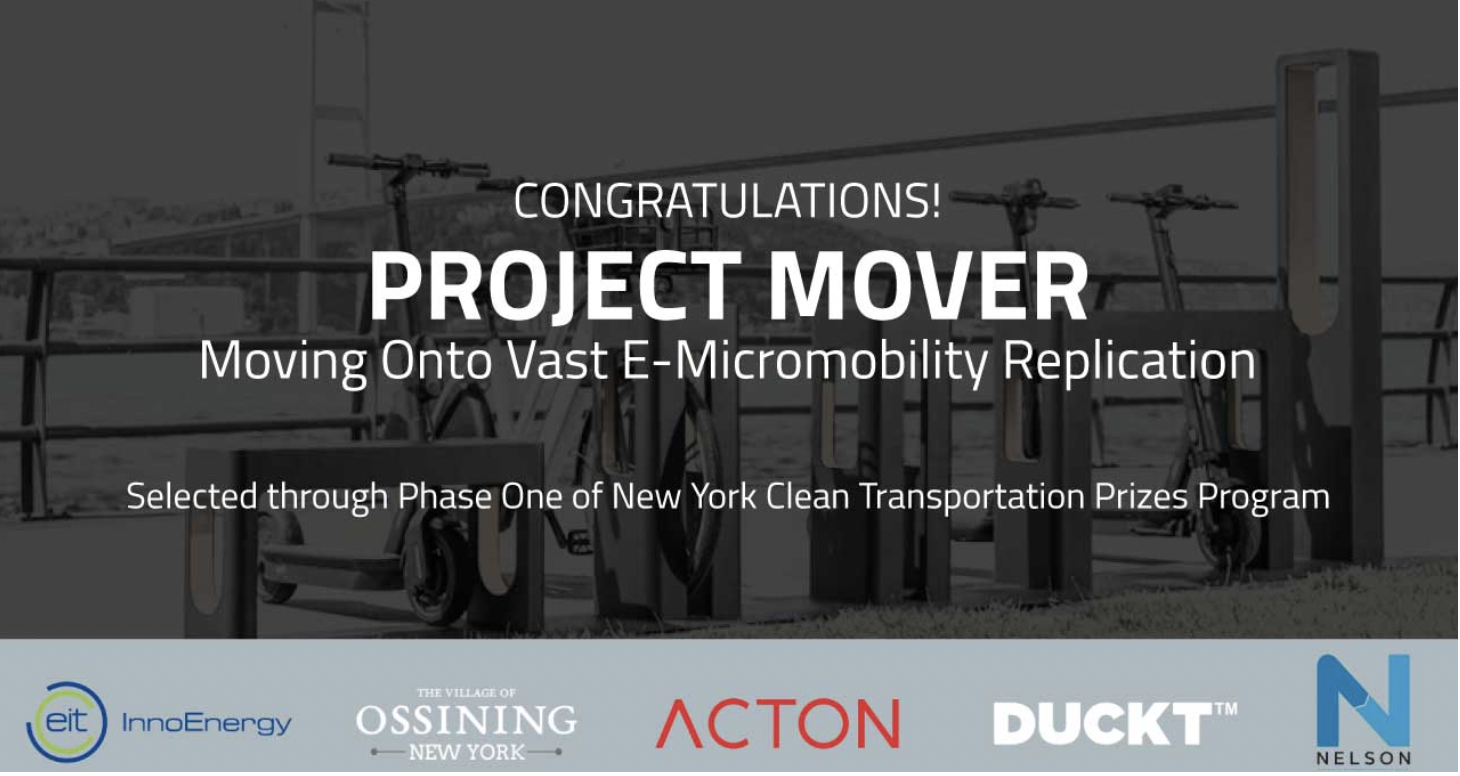 EIT InnoEnergy was recently selected for a Phase One funding by the New York Clean Transportation Prizes Program.
The aim of the prize is to advance plans to bring model clean transportation solutions that reduce air pollution, advance electrification, and increase mobility to New York State's underserved communities.
Project Mover description and video.
EIT InnoEergy's portfolio companies teaming up
As one of 17 projects announced through Phase One of the competition, the project is eligible to compete for up to USD 85 million under Phase Two. Teaming up with EIT InnoEnergy's portfolio companies Acton (US) and DUCKT (Estonia) and the US mobility consultancy Nelson/Nygaard, plans for Phase Two of the Electric Mobility Challenge project will be further developed in the Village of Ossining.
EIT InnoEnergy's project
Partnering with the Village of Ossening, allowed the Project Mover team to identify the need for clean mobility access to connect residents to their downtown, riverfront, ferry landing, and Metro-North station. Phase two will include e-bike charging docs, lease-to-own e-bikes, reduced-fare shared e-bike trips, bike parking, and community-led training. The project will also include funding for an Electric Mobility Incubator, which will establish a knowledge exchange for surrounding communities to deploy their own micromobility projects.
European Markets
EIT InnoEnergy has been supporting Acton, a US based start-up to bring their intelligent e-vehicles to European markets. Mark Vasu has lead commercialization efforts with the help of Nelson/Nygaard, a leading mobility and transportation consulting group. Acton's partnership with Europe based start-up Duckt, with its universal charging stations, has allowed them to provide full-circle micromobility services for their project partners.
Electric Mobility Challenge
The project proposal will receive a Phase One award package of up to USD 200,000, including a USD 100,000 planning fund for further proposal development, up to USD 50,000 in funding for community partners, and up to USD 50,000 in in-kind support from technical experts. 
EIT InnoEnergy will be able to compete for a final grand prize in the challenge area: Electric Mobility Challenge - Up to three USD 7 million prizes will be awarded through Phase Two to projects that demonstrate electric mobility options that solve underserved community needs.
As selected project teams finalize their proposals, they will prepare for a pitch competition to be held in the summer of 2022 with grand prize winners expected to be announced in late summer 2022.