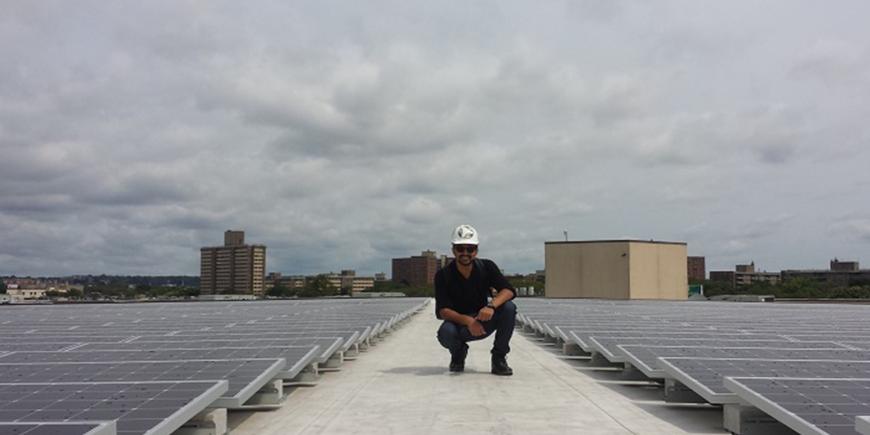 Offering a perspective of an EIT InnoEnergy Master School graduate, Arjun Gupta, EIT InnoEnergy Master School alumni and Top 30 under 30 Sustainability Leader 2019, explores the subject of renewables, recent trends and its significance in the energy mix.
The involvement of tech giants in the industry
Energy is rapidly transforming electricity systems worldwide, which is already a major factor for anyone interested in pursuing further studies in sustainable energy engineering. The unique selling point of renewable energy is that it has broken the concept of centralised ownership of power assets allowing consumers to produce and sell electricity from their rooftops.
This concept coupled with the scalability of renewable energy has far reaching consequences for the energy ecosystem. As I have always been interested not only in the technical aspects of engineering but also in understanding the bigger picture, I have been following the rapid uptake of renewable energy by the big tech firms like Apple Google, Facebook, Amazon, Microsoft who have placed big bets on solar and wind power worldwide!
Bold Commitments
First, a quick summary of the commitments made by Big Tech so far:
Apple had every touchpoint – from retail stores to servers powered by 100% renewable energy before the end of 2018. Apple and ten of its Chinese suppliers have promised to invest USD 300 million by 2022 to develop projects totalling 1 gigawatt of renewable energy.
Facebook intends to power it's global operations with 100 % renewable electricity by 2020 and recently added 3 gigawatts to its portfolio towards their ambition. In 2018, Facebook inked the most renewable energy contracts among corporations.
Google has worn the crown for the world's largest corporate buyer up to 2017 and has met their target of 100 % renewable energy for their global operations in 2017 and 2018. Google's set of solar and wind agreements amount to a staggering 5.5 gigawatts and their investment in renewables continues to expand.
You will find similar stories from big tech companies like Microsoft, Amazon, Tesla, AT&T etc. who have pledged massive investments and commitments towards greening their operation.
But why?
It is commendable to see these tech titans identify and minimise their massive carbon footprint across the globe. But these companies also find investing in renewable energy incredibly lucrative.
Data centres are the backbone for most tech companies and these centres are massive energy guzzlers. Google claims that electricity costs are in fact the largest operating cost of data centres. Switching to renewable energy locks in the electricity cost for a long term and protects companies from any swings in energy costs.
Grid Defection is Coming
Tech companies are actually doubling down on their commitments by integrating energy storage on their premises. For instance, Apple's headquarters in California is controlled by a microgrid with battery storage, and Microsoft engineers are testing battery storage at the company's data centres. Achieving energy independence from the power grid ensures that these companies are shielded from risks of potential outages. As any down time of servers and data centres translates to revenue losses, tech companies are finding huge value in defecting from their power grids.
How to join the revolution?
Until a few years back, working in tech required coding wizardry for young professionals, but this is quickly changing. I have witnessed tech giants expand their hiring pool to young professionals with experience in the sustainability domain. Most tech companies today have a growing sustainability division who are in need of renewable energy engineers worldwide.
There is a huge deficiency of formal education in the sustainability space today and I my Master with EIT InnoEnergy leading this movement by providing an array of professional programmes that are perfectly well suited for the needs of the renewable energy industry and tech companies looking to expand their sustainability portfolio.
Big Tech is, however, also chasing a larger vision as they expand their clean energy portfolio. Coming soon: Our New Electricity Providers.
Learn more about the EIT InnoEnergy Master School