EIT joins the European Innovation Council Accelerator (EIC) Fast Track scheme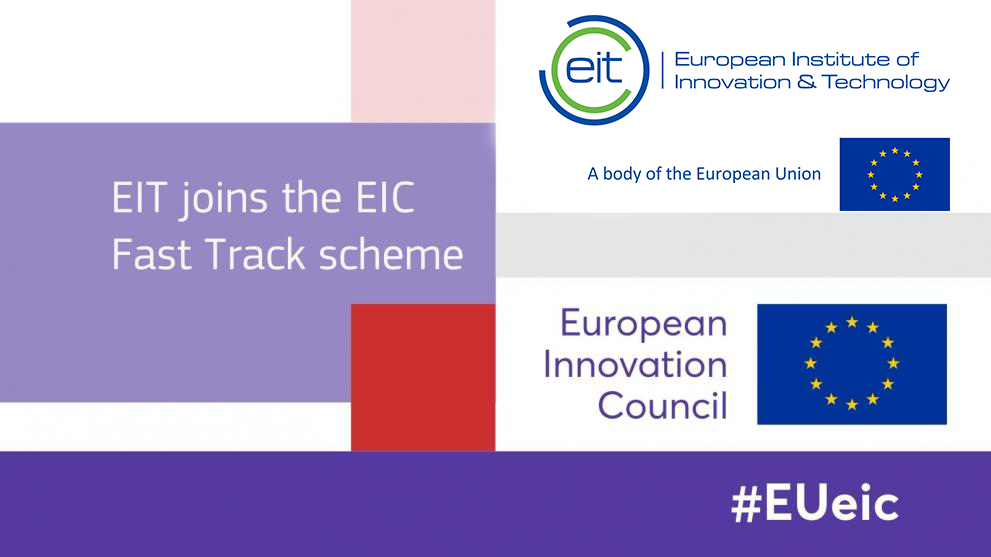 The Knowledge and Innovation Communities (KICs) of the European Institute of Innovation and Technology (EIT) are now able to assess the start-ups and scale-ups they support and fast track them directly to the full application stage of the EIC Accelerator.
The 'Fast Track scheme' helps to significantly speed up the process and reduce administrative burden for applicants wishing to apply to the EIC Accelerator. Introduced under Horizon Europe, the scheme allows the EIC to give a streamlined treatment to applications stemming from projects already funded by the EIT KICs (and other eligible EU schemes) under Horizon Europe or Horizon 2020.
EIC and EIT have reinforced their collaboration to support the best European entrepreneurs. This will enable innovators, innovative SMEs and start-ups to receive quality support services to deploy and scale up innovations faster and with greater impact.

-  Mariya Gabriel, Commissioner for Innovation, Research, Culture, Education and Youth 
The Fast Track scheme recognises that start-ups and scale-ups emerging from the EIT Innovation Communities already have a proven track record, which gives them a faster access to the EIC Accelerator funding. Subject to an identification and review process undertaken by each EIT Innovation Community, companies will be invited to directly submit their full proposal to the highly competitive EIC Accelerator without going through the initial 'short proposal' stage of the evaluation procedure. They can also directly benefit from three days of tailored-made coaching to prepare the full proposal.
Once fast-tracked to the EIC Accelerator, applicants have up to one year to develop and submit their full proposals. This gives them time to apply to any of the regular EIC Accelerator cut-off dates throughout the year. Interested start-ups and scale-ups, which are already beneficiaries of Business Creation Programmes of the EIT Community, should contact their respective KIC for more information about the process and the relevant deadlines.
Background Information
The EIC and EIT are part of a wider ecosystem that the EU put in place under Horizon Europe to give Europe's entrepreneurs every opportunity to become world-leading companies. In January this year, they signed a Memorandum of Understanding that strengthened the support that the EIC and EIT are already providing to thousands of innovative start-ups and SMEs to scale up in Europe and to ensure mutual access to advisory services and networks.
The EIC Accelerator offers start-ups and SMEs grants of up to EUR 2.5 million combined with equity investments through the EIC Fund ranging from EUR 0.5 to EUR 15 million. In addition to financial support, all projects benefit from a range of Business Acceleration Services that provide access to leading expertise, corporates, investors and ecosystem actors. 
The EIT is Europe's largest innovation ecosystem bringing together close to 3 000 partners from top business, research and education organisations across Europe in 60+ innovation hubs. Through dynamic pan-European partnerships, the EIT Community offers a wide range of innovation and entrepreneurship activities, strengthening Europe's ability to innovate and powering solutions to pressing global challenges while nurturing entrepreneurial talent to create sustainable growth and skilled jobs in Europe.