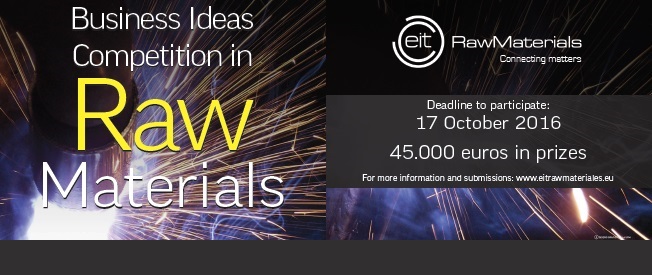 Business Plan Ideas Competition for Innovation in Raw Materials
The mission of the EIT RawMaterials is to foster innovation and entrepreneurship by driving and promoting projects all along the raw materials value chain. The philosophy of the Business Idea competition is to help future potential entrepreneurs in creating technologies and business models with a high growth potential within the raw materials sector and in all related fields.
The topics that should underline the proposed business ideas are the following:
Exploration and raw materials resource assessment
Mining in challenging environments
Increased resource efficiency in mineral and metallurgical processes
Recycling and materials chain optimization for end-of life products
Substitution of critical and toxic materials in products and substitutions for optimized performance
Design of products and services for the circular economy
EIT RawMaterials invites you to participate and present your business idea related to the topics mentioned in the format outlined by the Business Plan Competition. Upon acceptance of the idea, participants will have one month to develop a business plan.
Phases and dates:
Phase 1: Selection and promotion of the best ideas
Ideas submission deadline: 17 October 2016
The best 10 ideas will be awarded € 1.000 and will be selected to go to the next phase. Depending on the number and quality of the ideas received an additional pool of ideas may be selected to go to the next phase (first week of November 2016)
Phase 2: Development of the selected ideas
Mentoring of the teams: the winning teams will be mentored to develop a more comprehensive business plan (November 2016)
Phase 3: Business Plan Awards
Business plan submission deadline: 1 December 2016
Three best projects from phase 2 are selected as finalists
Business plan awards ceremony: 20 December 2016
1st prize: € 20.000 / 2nd prize: € 10.000 /3rd prize: € 5.000
The EIT Raw Materials recognition and support
The best projects will benefit from the EIT promotion, resources and contacts. To be part of the EIT RawMaterials alumni community, which bets for innovation and entrepreneurship.
Who can participate
The competition is open to anyone interested:
Researchers or research groups from universities and research centers that are working on any of the topics raised by the competition
Professionals with experience and deep knowledge in the raw materials field
PhD and top-level students within the sector
As a recommendation but not mandatory: ideas coming from students should be accompanied by a faculty member with experience in the field.
For more information and registration please click here.
Additional information concerning the terms and reference of the competition can be found here.
Catch up with the latest news from the EIT Community in the Newsroom.
Subscribe to the EIT Newsletter to get the best of the EIT Community's news in your inbox once each month.