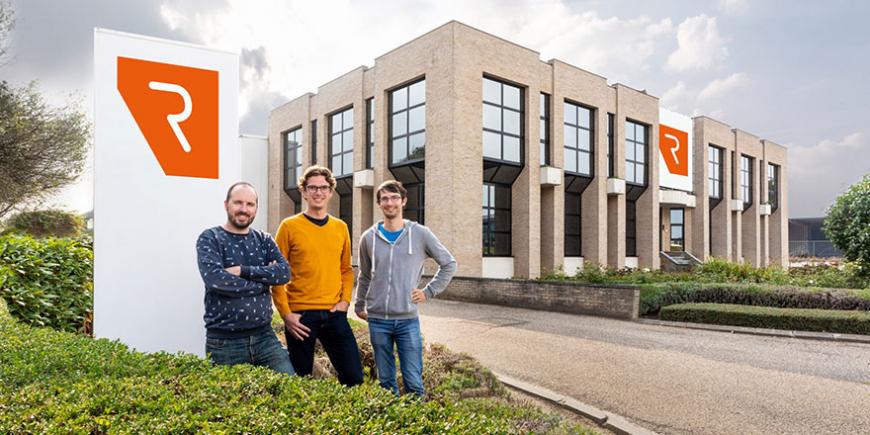 REIN4CED brings bicycle production back to Europe, with the supply of unbreakable carbon frames
The EIT RawMaterials supported start-up successfully inaugurated its new carbon frame production facility in Belgium. The automated production facility will enable the REIN4CED to supply unbreakable carbon frames to leading cycling brands, starting in late 2019.
Four days before the Brussels 'Grand Départ' of the 2019 Tour de France, REIN4CED revolutionised the cycling industry. The EIT RawMaterials supported start-up REIN4CED inaugurated its innovation-centric bicycle frame production facility in Leuven, Belgium. With this unique facility, REIN4CED is entering the final straight line of its mission to bring back carbon bicycle frame production to Europe.
Despite being the heart of cycling, all bicycles used in the Tour de France are crafted in Asia. The REIN4CED team, which invented the unbreakable composite material gave a sneak peek into its automated bicycle frame production line that is currently being set up. From this line, REIN4CED will supply unbreakable frames to leading cycling brands, starting in late 2019. EU-based brands will also benefit from significant logistic advantages and increased supply chain flexibility and efficiency.
Unbreakable frames made of the next carbon
REIN4CED has a lot to celebrate. The new production plant for innovative bicycle frames is a major milestone in the growth path of the start-up.
Already late 2019, our first unbreakable carbon frames will roll off the new production line. Key in this regard is the development of a new impact-resistant composite material. The disruptive material of REIN4CED eliminates the sudden and dramatic failure of carbon bicycle frames that put riders' lives in danger. The new lightweight material combines carbon with fine steel fibres, offering cyclists maximum performance with enhanced safety and durability.

Dave Luyckx, CPO at REIN4CED
About REIN4CED
REIN4CED is a Belgium-based company that has extensive expertise in composite manufacturing and bicycle frame development. It has developed and patented a new fibre-strengthened composite material which is being brought to an industrial scale. In its new production facility, REIN4CED will manufacture impact-resistant and lightweight bicycle frames for brands wishing to offer their cyclists maximum performance with enhanced safety and durability.
The facility in Leuven will be equipped with state-of-the-art machines for automated production of bicycle frames made of the next carbon. REIN4CED will kick off production with an annual production capacity of up to 20 000 bicycle frames in 2020.

Michaël Callens, CEO at REIN4CED
EIT RawMaterials Booster
REIN4CED is supported by the EIT RawMaterials Booster.
The EIT RawMaterials 'Start-up & SME Booster Program' is one of the EIT RawMaterials funding instruments dedicated to supporting third parties' activities, such as business creation by idea holders and growth support by start-ups and SMEs. It provides support to start-ups and SMEs to develop innovative products/services that can produce an impact in the raw materials sector or benefit our partners.
Apply here for the open Booster Call and scale-up your business with EIT RawMaterials