EIT Urban Mobility's Accelerator programme SPECIAL: COVID-19 kicks off with 23 high-calibre European startups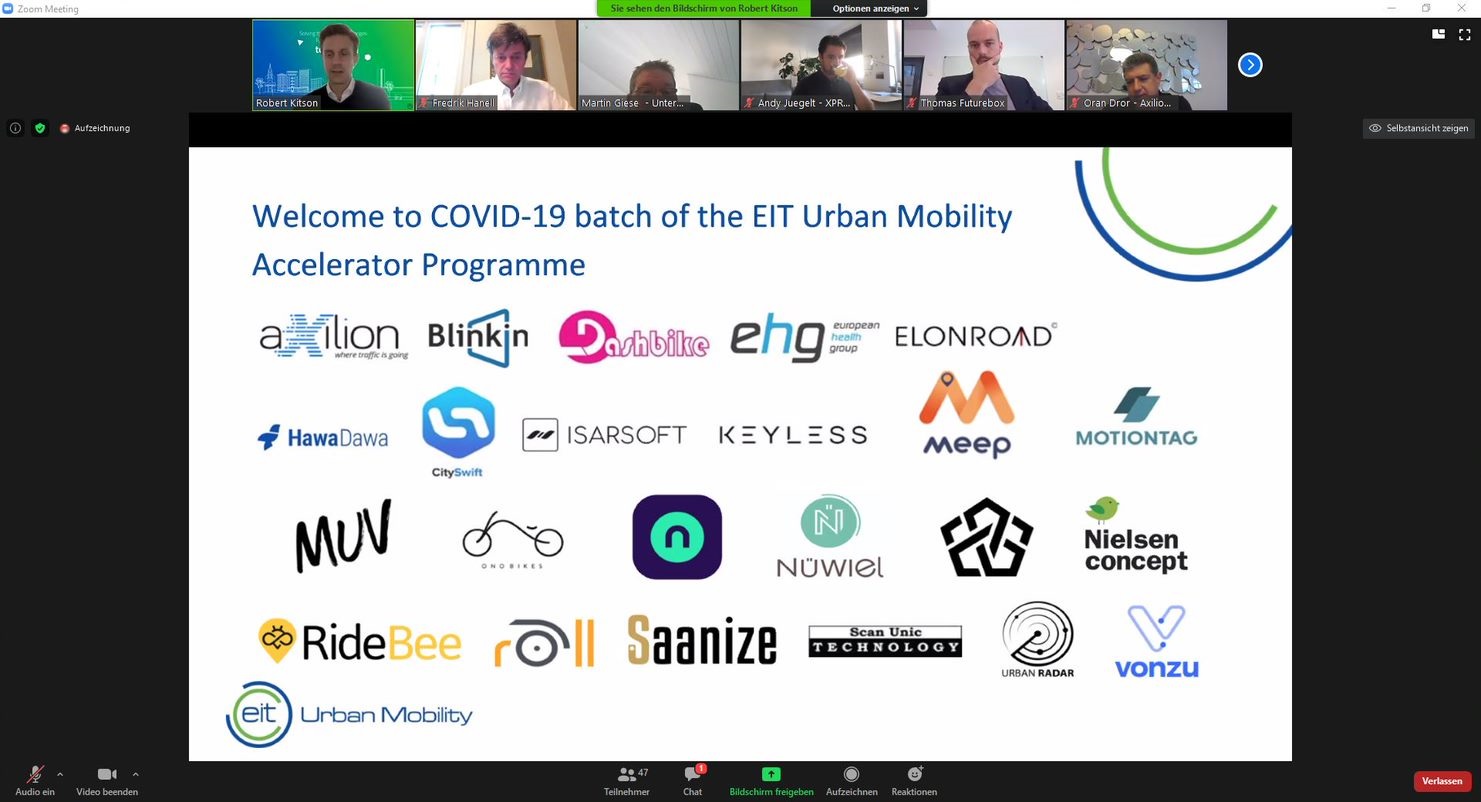 The COVID-19 pandemic has fundamentally changed our everyday lives and cities. To address the challenges posed by the pandemic EIT Urban Mobility has launched the "EIT Urban Mobility Accelerator programme SPECIAL: COVID-19" to support startups developing mobility solutions for COVID-19 related problems. 
From a pool of over 100 applicants, 23 startups have been selected for the programme, which hail from Spain to Sweden and all the way from Ireland to Israel. For the next three months they will receive a tailored programme including one-on-one coaching, mentoring, peer-to-peer learning, training, workshops, access to international startup and mobility events, and unique access to transport providers, cities and investors. The participating ventures will also profit from a specifically designed COVID-19 impact assessment, which is headed by Dr. Ursula Mühle, who is currently helping the German government to manage the effects of the Corona pandemic. 
The EIT Urban Mobility Accelerator programme SPECIAL: COVID-19 has kicked off successfully on 3 September 2020, and partners are excited to accelerate these 23 promising startups and scale-ups culminating with the final presentation at UnternehmerTUM's ultimate demo day at the end of November. The programme is co-run by four European acceleration partners: Futurebox (DK), PoliHub (IT), Technion DRIVE Accelerator (ISR), and UnternehmerTUM (DE). 
Introduction to the selected startups:  
AxilionSmartMobility: "Reduce Traffic Congestion & Carbon Footprint with Disruptive AI & SaaS based Technology."  
BlinkIn: "BlinkIn enables people to be there without going there." 
CitySwift: "SwiftConnect provides passengers with predicted public transport vehicle demand and capacity information, allowing passengers to plan their journeys." 
Dashfactory GmbH: "Dashbike is the first valid dashcam for cyclists that also has a StVZO conformal daytime running light and collects infrastructure data." 
Elonroad AB: "Elonroad develops a high-tech electric road system – it auto charges all types of electric vehicles when parked as well as when driving." 
European Health Group: "Our coating service prevents bacterial growth on highly used surfaces & all materials, killing viruses & bacteria & making our environment safer."  
Hawa Dawa: "Digital tools to de-risk pollution + guide healthy routing choices among respiratory vulnerable groups using AI & datascience, IoT + satellite imagery" 
Isarsoft: "We make every camera count – Accurate video analytics solution for your business"  
Keyless Technologies: "Nothing to remember. Nothing to steal. You are the key."  
Meep: "Meep creates mobile applications that integrate all available transport to and encourage a modal shift towards more sustainable and connected cities." 
MOTIONTAG: "MOTIONTAG fuels innovation in the mobility sector to solve the climate challenge" 
MUV B Corp: "MUV turns safe & sustainable mobility into a Sport. It rewards responsible habits, certifies CO2 savings and helps Organisations to improve the World" 
Nemi "Flexibilising public transport to make it more efficient, sustainable and inclusive". 
Nielsen Concept: "Service B2B of electric bikes and connected bike shelters, 100% green with the concept of circular economy"  
The mission of Nielsen Concept is to improve the practice of individual and collective electric mobility and above all warn of the increase in carbon emissions.
NÜWIEL GmbH: "eTrailer is the first electric trailer for bikes with patented technology that enabling smart synchronised movement"  
Odo: "Sustainable and smart first/last mile solution that collects data about the city"  
PentaLock: "The ultimate bike security system inside the crank to prevent thefts" 
RideBee: "The default platform for your daily commute.RideBee is developing a platform for companies that supports the formation of carpools for employees and simplifies their daily organisation." 
Roll2Go: "The data-centric platform for mobility data fusion and predictive analytics"  
Saanize: "We develop simple solutions to the challenges our users meet every day"  
Scan Unic: "Our innovative research and design network develops all our technologies from concept to prototype stage." 
UrbanRadar: "Mobility data analytics to beat congestion and improve air quality"  
VONZU Tech: "Empowering digitalization in the urban distribution of goods"