ERMA and Greenland Resources mark successful partnership advancing responsible mining in Europe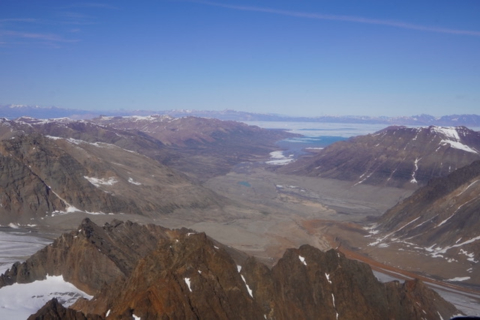 BERLIN, 25 September 2023 – The European Raw Materials Alliance (ERMA) and Greenland Resources highlight their successful collaboration on the Malmbjerg molybdenum project, a prime example of cross-regional mining for a secure and sustainable European raw materials value chain for the Green Deal.
Supporting ESG Standards and EU Circularity
The Malmbjerg molybdenum project exemplifies responsible mining practices with top-tier ESG standards. It will supply high-quality molybdenum to meet a substantial portion of Europe's demand. Greenland leads in education and health spending and has the lowest poverty rates among major molybdenum producers.
EIT RawMaterials' collaboration enabled Greenland Resources to secure offtake agreements with EU companies and capex financing from institutions like the Export and Investment Fund of Denmark and Deutsche Bank. It also facilitated agreements with EU and Canadian mining equipment suppliers like FLSmidth and Doppelmayr.
Supplying 25% of Europe's Molybdenum Demand
Molybdenum is vital for clean energy tech and mining equipment. China produces 45% of global supply, while the EU depends on imports. Malmbjerg will provide 25% of EU demand with high-quality molybdenum.
With soaring demand, molybdenum prices have surged 33% above Greenland Resources' base case.
Greenland is committed to fostering responsible mining ventures that not only tap into our abundant natural resources but also prioritise the well-being and empowerment of our local communities. It's crucial that we set a benchmark for Environmental, Social and Governance (ESG) standards while maintaining our competitive advantage. Projects such as the Malmbjerg project with proximity to Europe and high-quality ore serve as a model of responsible mining practices, and they hold immense importance for our region in terms of growth and job creation.

Naaja H Nathanielsen, Greenland's Minister of Finance, Minerals, Justice and Gender Equality
Strengthening cooperation and training between Canadian and Greenlandic Inuit communities. In June, Greenland Resources expanded its support to Ittoqqortoormiit, the nearest community to the Malmbjerg project. This included a boost in financial support and mining training, enhancing internet infrastructure, and allocating funding to strengthen culture and education initiatives. In addition, Greenland Resources recently signed an MOU with Nuna Group of Companies, a world class Canadian majority Inuit-owned civil construction company that specialises in Arctic construction and contract mining operations. This will add to the cooperation and training between Canadian and Greenlandic Inuit communities.
 The partnership between EIT RawMaterials and Greenland Resources is a great example of a win-win scenario. We are excited about the development of multi-country value chains for this indispensable raw material, and our commitment in seeking global partners goes far beyond this project. EIT RawMaterials and ERMA, together with the European Commission, are actively engaging in dialogue with partners including the upcoming Strategic Partnership on responsible raw materials value chains between the European Union and Greenland.

Bernd Schäfer, CEO and Managing Director of EIT RawMaterials
Dr. Ruben Shiffman, Executive Chairman of Greenland Resources, highlights the collaboration's achievements, including capital expenditure finance support from financial institutions, successful off-take documentation with prominent European steel and chemical companies, and with leading mining equipment suppliers - all made possible by EIT RawMaterials' strong support.
EIT RawMaterials' support has been instrumental in our success. Recently, in the presence of the Prime Minister of Belgium, we signed terms with Molymet, the world's largest molybdenum roaster, to convert our molybdenite concentrate in Belgium to ferromolybdenum, molybdenum oxide and ammonium dimolybdate and sell them directly to the EU steel and chemical industry. We expect a significant percentage of our 2022 Feasibility Study USD 820 million capital expenditure to come from EU and Canadian financial institutions. Also, over USD 300 million on mining equipment will be sourced from the EU and a similar amount from Canada.

Dr. Ruben Shiffman, Executive Chairman of Greenland Resources