European Investment Fund and EIT Digital team up to close digital skills gap in Europe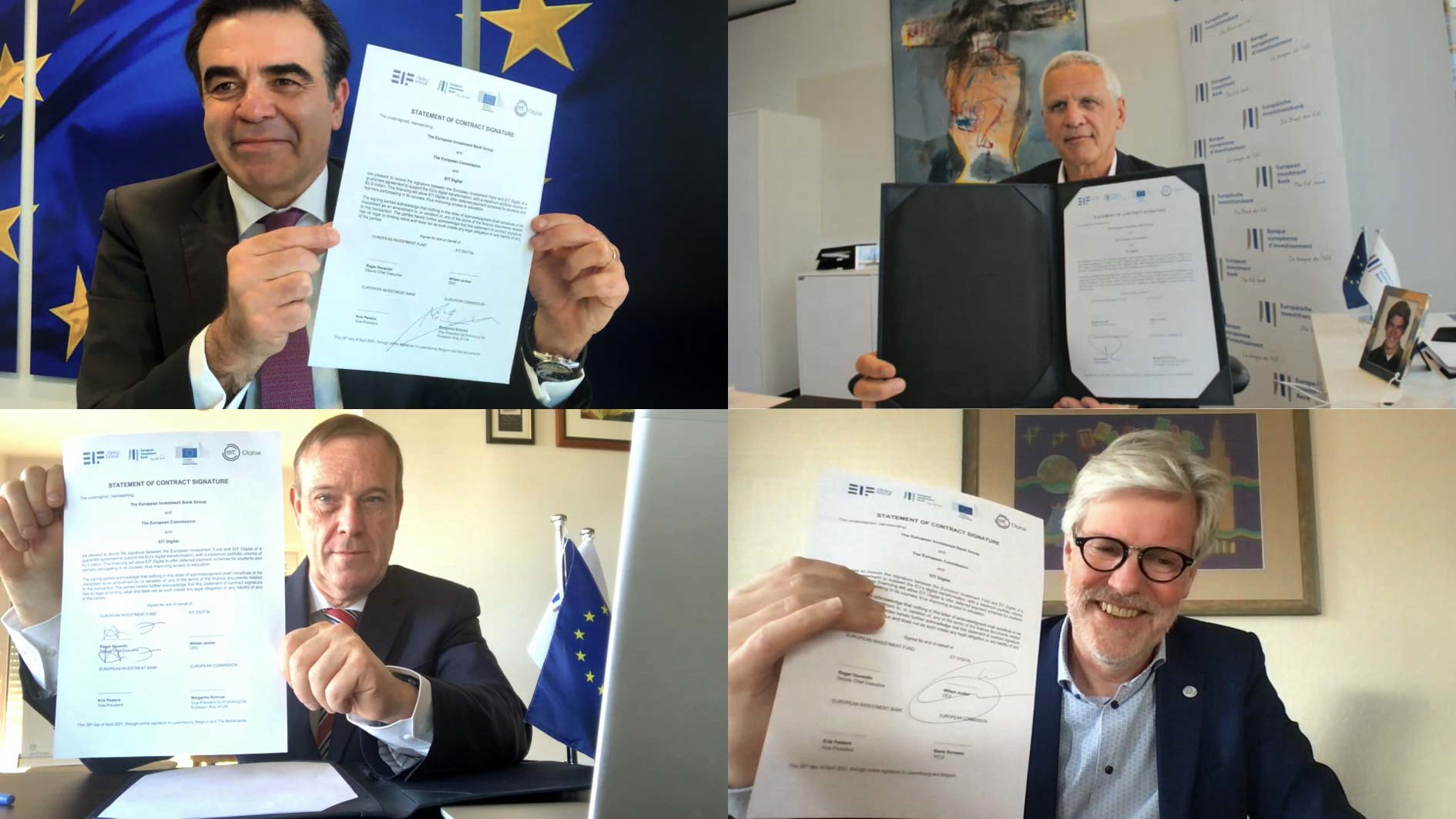 On 28 April, the European Investment Fund and EIT Digital, Europe's leading digital innovation and entrepreneurial education organisation, signed an agreement that will allow more European students and learners to benefit from EIT Digital's training programmes thanks to a new EIF guarantee.
The agreement between EIF and EIT Digital, an innovation community of the European Institute of Innovation and Technology (EIT) supporting the EU's digital transformation, has a maximum volume of €2.5 million. This financing will allow EIT Digital to offer deferred payment schemes for students and learners participating in its courses, thus improving access to education. Future EIT Digital students and learners will be able to apply for the new scheme from June 2021 onwards, it is expected that around 500 people can benefit from the scheme.
The evolution of professions, rise of new technologies and digital transformation of industry and society require new educational profiles and skills sets. In response, EIF and EIT Digital jointly facilitate access to education and training that provide a combination of digital and entrepreneurial skills to students and professionals. The agreement is part of the EFSI Skills & Education Guarantee Pilot, a new initiative dedicated to stimulating access to finance in education, training and skills, backed by the European Fund for Strategic Investments (EFSI), the main pillar of the Investment Plan for Europe.
European Commission Vice-President for Promoting our European Way of Life, Margaritis Schinas, said: 
The digital transition profoundly changes the way we live, study and work. We must equip people with the right skills to master this transition and make the most out of the opportunities the future brings. Thanks to the EU Skills & Education Guarantee Pilot and the EIF, even more students and entrepreneurs looking to expand their digital skills will benefit from the education and learning offers of the EIT Digital School.
Roger Havenith, Deputy Chief Executive of the European Investment Fund, points out that 120 million Europeans will have to upskill or reskill in the next five years.
In a constantly changing economy, the Skills & Education Guarantee is an excellent instrument to share financial risk with partners like EIT Digital, and as a result allow more Europeans to acquire the skills they need to be successful in the jobs of the future.
EIT Digital's education programmes deliver a unique blend of technical excellence and entrepreneurial skills and mindset to students and professionals at all stages of their careers. This agreement will allow more students and learners to equip themselves with urgently needed digital knowledge and skills,
emphasises EIT Digital CEO Willem Jonker.
EIB Group Vice-President Kris Peeters added: 
There is no denying that 'digital' is the way forward and we should prepare for the future. It is a very good thing that European initiatives like the EFSI can combine furthering education, training and skills, with promoting access to finance for students throughout the Union.
According to the latest Digital Economy and Society Index (DESI), four out of ten adults in the EU lack basic digital skills. More than 70% of business report the lack of staff with adequate digital skills as an obstacle to investment. Europe also faces a shortage of digital experts who can develop cutting-edge technologies for the benefit of all citizens.
The EIF guarantee will allow EIT Digital to support a number of students and learners of its Master School, Summer School and Professional School, facilitate in this way access to EIT Digital's education and training portfolio, and provide more Europeans than ever before with digital knowledge and skills in support of innovation and entrepreneurship.