Fast-track your business with the EIT RawMaterials Accelerator Programme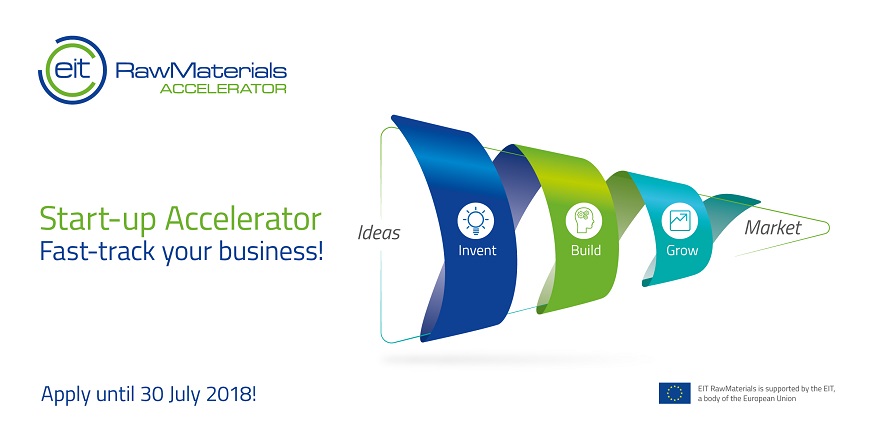 EIT RawMaterials launches its first Accelerator Programme.
This is a call for start-ups that consider they already have an innovative offering (at TRL4-6) and see the opportunity in rapidly developing this offering to the exploration, mining, mineral processing, metal, mineral and steel making and recycling industries as well as their suppliers of equipment and tools. The call is to apply for Phase 1 Invent of the EIT RawMaterials Accelerator Programme.
The Accelerator program comprises 3 Phases. There are stage gates between each of the Phases, where Start-ups need to be approved for entering the next Phase. Each phase has specific objectives, process, funding and timeline. The support provided in each phase follows a clear process, which consists of both group work, individual coaching as well as anchoring start-ups in their local and national ecosystems while at the same time opening up introductions on a pan-European level to partners in the EIT RawMaterials consortium. This process is coordinated by Business Developers at EIT RawMaterials. The combination of local anchoring and Pan-European opportunities is envisaged to increase the success rate and market opportunities of the selected start-ups.
The EIT RawMaterials Accelerator Programme is novel because it can make an introduction to customers in the EIT RawMaterials partner network who are willing to adopt innovations; and, it connects local and national ecosystems to the Pan-European network of a pilot and test infrastructure facilities as well as potential customers. We also supply grant funding to enable your team to participate in the Accelerator Programme.
The EIT RawMaterials Accelerator Programme aims to develop start-ups so that they can rapidly become suppliers to, and perhaps future partners of, the EIT RawMaterials network.
Application for Accelerator Programme Phase 1 Invent
Phase 1 is about building proof of concept for the business model in the targeted raw materials market segments. It starts with ideas at TRL 4-6 and aims to find a market niche, to develop a financial model, and to build a business model. Selected Start-ups will receive EUR 15 000 as a funding to cover their costs for participating in Phase 1 of the EIT RawMaterials Accelerator Programme.
Objectives for Phase 1 Invent
Identify beachhead market, market size, customer pain
Identify key value drivers, good margin/product and margin/year, estimate financial needs
Compose a founding team, identify roles and coming needs for the team
Phase 1 has a three-month duration. It starts with a workshop, followed by bi-weekly calls with experts. It ends with a Graduation Day, where the Start-ups pitch their idea. Graduation Day is also the stage gate to Phase 2 in the Accelerator Program.
Target group and criteria
Start-ups with an innovative idea/solution
Stage of solution ready for acceleration (TRL 4-6)
Start-ups do not need to be a legal entity for starting Phase 1 Invent
Start-ups need to have a Team of more than one entrepreneur
Start-ups need to be prepared to work fulltime with a dedicated team
Programme for Phase 1 Invent
Phase 1 will start with a workshop for three days, gathering all 12 teams with two participants from each selected Start-ups. The workshop is planned to be held during week 37 or 38. The location and date will be provided along with the announcement of selected companies. At this workshop, the selected Start-ups will be provided with more details about the process for the Accelerator Programme, including expectations for Phase 1 as well as a personal introduction to your appointed Business Coach, who will also attend the workshop as well as support your team actively to your progress.
Five bi-weekly calls will be the next tool for individual coaching in the acceleration process and will support the progress in development in concept building from the stage where the Start-ups stands. The bi-weekly calls will be held by a Process leader and your Coach and run by video conference. The format will be discussion based with action plans forward and "home lessons" to next call.
Graduation Day will be held in the beginning of December and it will be a 2-day workshop starting with pitch training day one and day 2 followed by the final pitching session. The Pitching is mandatory and one part of the evaluation for stage gate to Phase 2 which is next step in the Accelerator.
In order to integrate and link new innovation to the EIT RawMaterials consortium, we will invite our partners directly to be active in selected activities, all to create a bigger impact and supporting progress.
How to apply
For Phase 1-Invent 2018, interested candidates apply via the link provided below. Candidates are asked to file an Application form (5-pager template) describing their Start-ups, their innovation and application towards EIT RawMaterials. All applications, pitching and reporting shall be done in English.
More information about the EIT RawMaterials Accelerator Program Phase 1 Invent can be found here.
The application deadline is Monday, 30 July 2018 at midnight CET.