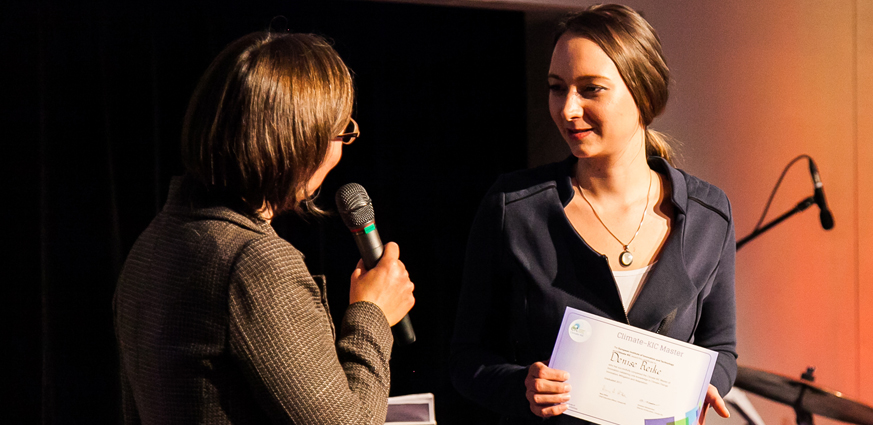 The first group of graduates from Climate-KIC's pan-European Master programme are being awarded their degrees this year, with the first 10 students graduating at a ceremony in Poland last month (22 October).
Their qualification took two years and immersed them in climate innovation and entrepreneurship. The experience put them in touch with like-minded people who, by joining forces and combining different disciplines, will accelerate the development of climate innovation over the coming years.
The first Climate-KIC graduates are a huge achievement for our community. It shows that top universities can collaborate with businesses, start-ups, governments as well as each other to develop highly networked change agents. These graduates will shape our green society.

Climate-KIC's Eleanor Saunders, Deputy Director for Education
The first group of graduates received their degrees at the Innovation Festival 2013 in Wroclaw, Poland. The festival was held over three days and included corporate showcases, workshops, plenary sessions and the Climate-KIC Venture Competition 2013.
The qualification was set up by Climate-KIC in 2010 and is embedded in a two-year Master course. A total of 25 Climate-KIC Master students are set to graduate at Climate-KIC partner universities this year.
First graduates
Graduates of the programme are certified by Climate-KIC, allowing future employers and collaborators to recognise that the graduate is aware of climate change issues, the European business environment, and has the team skills to successfully integrate in climate innovation companies and start-ups.
Student are required to take part in a five week summer school, to attend a thought-provoking series of seminars, spend 30 study credits abroad, write their thesis on a topic related to climate change and entrepreneurship and take local courses in climate science, business and entrepreneurship.
The summer school is one of the key parts of a student's commitment to a Climate-KIC master's degree. It takes five weeks over the summer break and involves attending workshops with innovation company representatives, scientists, engineers and politicians, as well as developing a business idea with other students – and pitching it to an expert jury.
At the forefront of climate innovation
The Climate-KIC Master programme is a unique approach that is set to put Europe at the forefront of climate innovation as the industry grows and thrives in the years to come.
Marvin Kant, one of the recent graduates, is looking forward to this bright future for European businesses and feels the programme will have wide-ranging effects:
There is a really big potential in Europe already in terms of more efficiency, fewer emissions and behavioural change. I think there's a high potential in Climate-KIC for making climate change innovation a role model in Europe, and then spreading it to countries where it could have even more impact.
Read more about Marvin's experience in our interview.