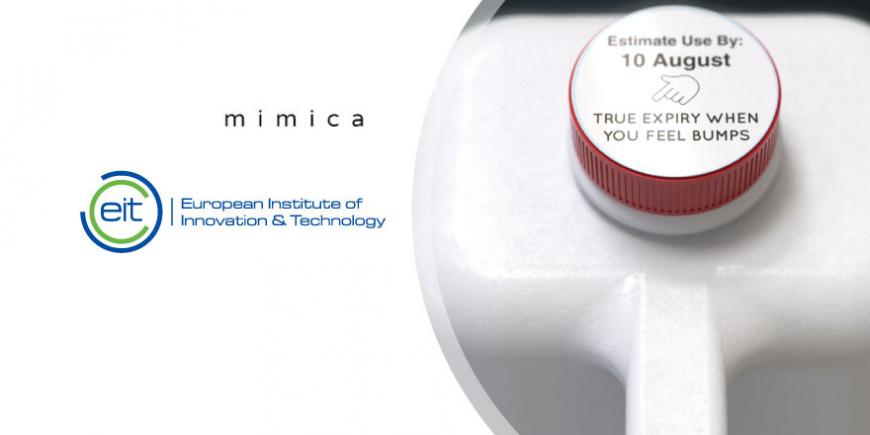 We see a lot of big innovations within the EIT Community.
Generators the size of portacabins supplying solar power to rural villages. Enormous buoys to produce wave power sitting in the middle of the ocean. Electric planes, electric helicopters, and electric buses.
Often, however, it's the small stuff that has the biggest effect on our lives; Mimica Touch may soon become part of our everyday, helping to keep us safe.
Mimica Touch's founder, Solveiga Pakstaite, told us what's been happening with her innovation since we first featured it on the EIT website back in February 2015.
You invented it, so tell us what Mimica Touch is.
Mimica Touch is a patent-pending food expiry labelling innovation being developed by Mimica. It is a bio-responsive food expiry label that is calibrated to experience decay at the same rate as the food it is labelling and provide accurate, real-time indication of the product's freshness.
It is a tactile label, so when the label feels smooth, it means that the food is still fresh, and when bumps can be felt, then the food is unsafe for consumption.
What made you take the leap to developing Mimica Touch?
The Mimica Touch expiry label was born out of my project at Brunel University to improve accessibility to food expiry information for people with visual impairments. From hours of interviews with blind people, I discovered that the lack of access to this simple information was causing blind people to choose unhealthy frozen and processed food options, due to their longer shelf life. However, this risk-aversive behaviour is an unsurprising cause for many visually impaired people being overweight and living with diabetes. The original project sought to create a greater feeling of independence and confidence to enjoy cooking without risk of compromising food safety.
I then realised that the market is broader and that people with visual impairments are not the only ones who would benefit from Mimica Touch. Indeed, there is an increased demand for high quality, convenience, safety and an extended shelf life for fresh products and therefore an increased demand for more accurate and less confusing food expiry labels.
Sell the Mimica Touch to me.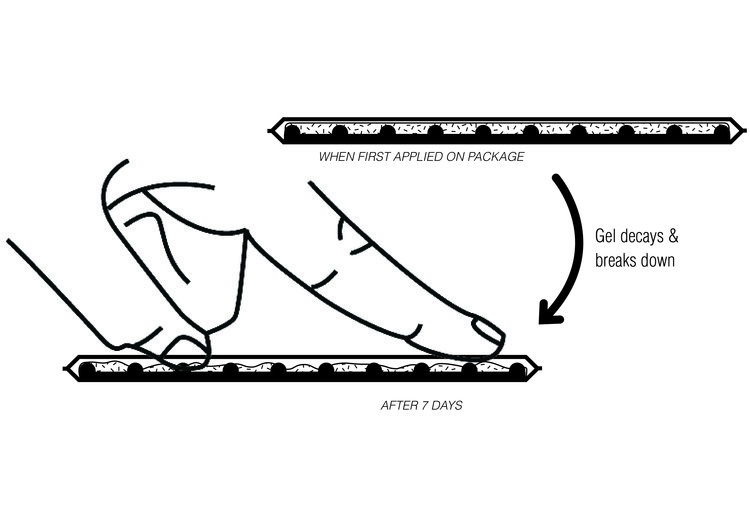 Mimica Touch is the first freshness indicator that provides tactile information and uses a by-product from the food industry - this is why the label experiences decay at the same rate as food… it is food itself!
How has the EIT Community and your Innovation Community supported the development of Mimica Touch?
We joined the EIT Climate-KIC programme at the very start of our company, and it has been a solid supporter throughout the development of the company. I don't come from a business background, so the masterclasses in marketing and international sales, among other things, have been vital for me to develop the skills I need to take Mimica to market.
Why did you decide to join the EIT Community and EIT Climate-KIC?
When I decided to take my university project to market, I didn't know where to start and I thought that EIT Climate-KIC looked like it could provide the support I needed to take the first steps with my company - I was right.
What challenges have you run into so far and how have you overcome them?
Nobody has ever used gels to model food decay before so we didn't have a body of academic research to start off with. Everything we've done in the lab at the Hydrocolloids Research Centre in Chester is cutting edge and we've been very lucky to be in collaboration with such a fantastic and supportive R&D partner.
Tell us a little about the everyday stuff. Where do you work from?
Until very recently, the whole company was grant-funded, so by the time we were looking for our first investors, we had an almost-ready product to show them which was very powerful.
We have been lucky to receive free workspace from both EIT Climate-KIC and also the Central Research Laboratory, which is a co-working space for hardware startups.
There's lots of support out there for new and innovative ideas, so you just need to ask around and persevere.
Where would you like to see your idea in 10 years' time?
We would love Mimica to be the new global standard for expiry information, as widespread as the barcode.
Is there anything else in the pipeline?
The product is only suitable for proteins at the moment so we will be working towards creating solutions for other food groups in the future.
Tell us about yourself: when did you become interested in this field?
I studied Industrial Design which is a skill set that brings together creative problem solving with technical analysis while always keeping in mind the marketability and consumer aspect of solutions.
My particular interest within design has always been encouraging more environmentally sensitive behaviour through user-centred and inclusive design, which is why I became so interested in the vast impact a small thing like an expiry date could have on people and the environment.
Did you always want to be an entrepreneur?
Nobody in my family has ever worked for themselves, so being an entrepreneur is not something I ever considered until the project won the James Dyson Award and the press started asking me "when will be see this on the shelves".
I thought they were mad at first, but then I decided to give it a go and I'm so glad I did because I'm learning so much. I really go against the phrase "but that's the way it's always been done".
---
Catch up with the latest news from the EIT Community in the Newsroom.
Subscribe to the EIT Newsletter to get the best of the EIT Community's news in your inbox once each month.
Do you use social media? Follow us and get updates in your news feed.