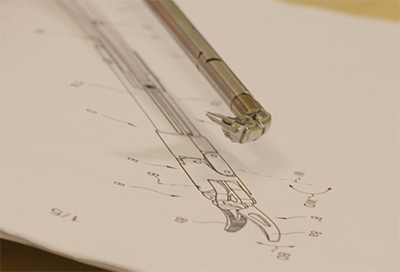 EIT Health-supported start-up Surge-on Medical continues to seek investments after surpassing its initial goal.
Making steerable instruments for minimally invasive surgery
Surge-on Medical, a Dutch start-up making steerable instruments for minimally invasive surgery, will extend their crowdfunding drive after surpassing the initial target of EUR 500 000 investment, obtained through the first campaign organised by the EIT Health-supported aescuvest.eu platform.
The crowdfunding initiative is quickly gathering speed and we have been extremely pleased with the success demonstrated to date. We are thrilled that promising European health enterprises are now accessible for Europeans to invest in, and that we are able to play a role in diversifying the funding opportunities available to support European health innovators.

Jan-Philipp Beck, CEO EIT Health
Surge-on Medical is developing and selling revolutionary surgical instruments for minimally invasive arthroscopy and laparoscopy that are fully steerable, swiftly detachable and easy to clean.
The proceeds of the first campaign phase enable us to obtain the Class I CE mark for the Steerable Punch. With that in place, we will be able to start the large-scale manufacturing in order to satisfy the existing demand from European distributors.

Benno Groosman, CEO Surge-on Medical
Surge-on Medical has also announced plans to expand its team, with a special focus on strengthening worldwide sales activities. Commercial relationships have been built with European, South-Korean and Chinese international distributors, and Surge-on Medical notes increasing interest from UK, Latin American and Australian distribution partners.
Subscribe to the EIT newsletter
A new way to support public ventures
The crowdfunding platform, which was launched jointly by EIT Health and aescuvest on 27 August 2019, marked the start of a new means of public venture funding in Europe. By making it easy for anyone to learn about and invest in healthcare innovations, EIT Health and aescuvest are using their Crowdfunding Platform to diversify the potential sources of funding and to let citizens invest in new ideas that matter to them.
Since the August launch, the Surge-on Medical campaign has seen 77 backers contribute an average of EUR 7 000 to the campaign, which attracts professional and small investors alike, according to aescuvest. Family offices, boutique investment firms and business angels account for approximately two-thirds of those funds. In the initiation period of aescuvest.eu, the minimum investment amount was EUR 500, with the largest single investment amounting to EUR 100 000, aescuvest said. So far, individuals and companies from Germany, the Netherlands, Austria, Sweden, Switzerland, and the UK contributed to the investment.
Passing the funding threshold of EUR 500 000 demonstrates both the interest from investors in Surge-on Medical's business model and the acceptance of a security-based and prospectus-approved high-risk and high-reward investment offering.

Dr Patrick Pfeffer, CEO Aescuvest