Grant Agreements signed between the EIT and the first three KICs
In 2015, the EIT has invested EUR 260 million to boost innovation in Europe through its Knowledge and Innovation Communities (KICs) innovating across the European Union. These EIT funds help to integrate education, research and business in Europe and are pooled with complementary funding to tackle the major societal challenges of climate change, sustainable energy and digitalisation.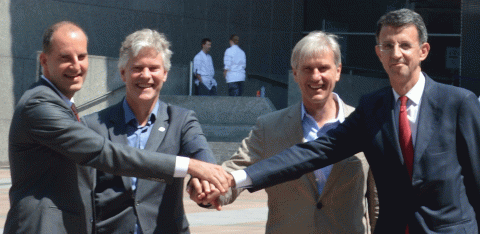 EIT and KIC activities have already yielded significant achievements to date, including the creation of 141 start-ups (to reach 205 by the end of 2015) and 120 new products and services (to reach 280 by the end of 2015). EIT labelled education programmes at Master and PhD level now boast over 472 graduates (to reach more than 1,000 by the end of 2015) and an alumni network that contributes to the development of a more entrepreneurial mind set among young persons across Europe. Through its Regional Innovation Scheme (EIT RIS), the Institute also sets out to improve the innovation capacity of EU Member States and regions not participating in EIT and KICs activities.
The 2015 EIT annual financial contribution to each KIC has been allocated as follows:
Climate-KIC: EUR 91,181,664.81
EIT Digital: EUR 83,824,033.11
KIC InnoEnergy: EUR 84,994,302.08
The grants will deliver further results and are expected to make a significant impact towards Europe's competitiveness, growth and job creation. The EIT's vision is to become the leading EU initiative that empowers innovators and entrepreneurs to develop world-class solutions to societal challenges, and to create sustainable growth and jobs.