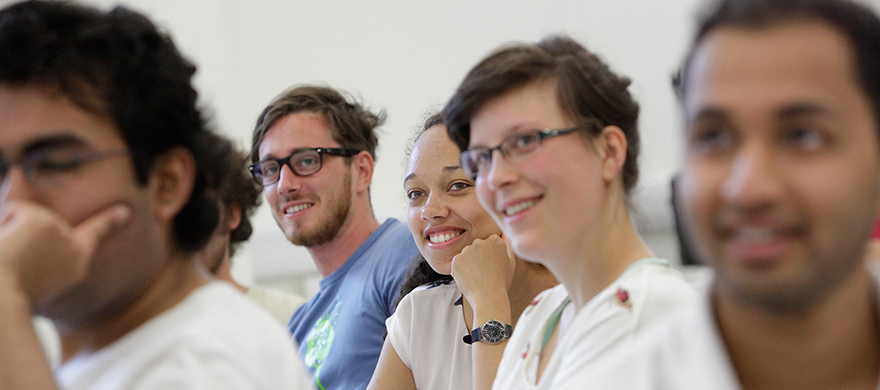 During the sixth week of Climate-KIC's #Journey2014 climate innovation summer school, four groups of students spent their second and last week in Hessen, Munich, London and Warwick – before continuing their journey to Zurich, Budapest, Copenhagen and Berlin.
Climate-KIC's #Journey2014 programme includes 18 locations across Europe and is Climate-KIC's largest climate innovation summer school to date. Students journey across three countries in six separate groups for a total of five weeks each, spread out over two-and-a-half months this summer.
In total, 300 students travel across Europe between July and early September, culminating in a challenge where start-up teams formed by the students present detailed business plans to a jury consisting of venture capitalists, start-up entrepreneurs and scientists.
Hessen
In Hessen, students focused on the Business Model Canavas – a tool for developing their start-up strategy – as well as group assignments, meetings with start-ups and special lectures on solar technology and sustainable agriculture.
The students also took part in site visitis, including the Viessmann biogass plant. The programme included time to explore the city of Kassel, including a city tour a campus tour at the University of Kassel.
On 17 August, the students took the train to Zurich for the next phase of their journey.
Munich
In Munich, students kicked off their week at Technische Universität München (TUM) for lectures on management of climate change risks in the insurance industry and energy supply through renewables and the role of the building sector in Germany.
Aside from business plan training, networking and speed dating with experts, highlights included sessions on patents and technology protection, sustainable city systems and information on how to work in intercultural groups. On 16 August, the students boarded a train in Munich, destination: Budapest.
London
In London, students kicked-off their second week at Imperial College London with sessions on value propositions and ideation. During the week, students visited the Poplar Harca site in the London Docklands, followed a lecture about risk assessment and took part in a Dragons Den exercise.
Highlight of the week for many students was attendance of the UK edition of the Climate-KIC Venture Competition 2014, which saw British start-ups pitch for Climate-KIC support and a place in the European finals later this year.
Warwick
In the West Midlands, students started their week at the University of Warwick, focussing on business models and behavioural science and design. Students also visited Warwick Crop Centre for sessions on low carbon farming and a low carbon agriculture tour.
During the week, students took part in several site visits, and received information on start-up incubation, ideation and the relation between global energy needs and climate change challenges. Students also took part in a training session on personal image and presentation, before getting on a train to the continent to continue their #Journey2014 in Berlin.
Blogging students
Summer school students have been very active on the Climate-KIC blog in week 6. Krishan Anand, currently studying a MSc in business marketing at the University of Warwick, wrote about his motivation to participate in this year's Journey summer school.
"The pool of talent that Climate-KIC brings together looks more promising than ever, and I have no doubt that this includes the leaders of tomorrow," wrote Anand.
For more posts, visit the Climate-KIC blog or have a look at the overview on the #Journey2014 page.
Last week on social media
If you haven't been following the summer school on social media last week: this is your chance to catch up. Our recap of #Journey2014 week 6: