KIC InnoEnergy Iberia was yesterday awarded as the best private-public partnership in R&D at the National Research Awards 2013 organized in Barcelona by the Catalan Autonomous Government and the Catalan Foundation for the R+D. The official ceremony took place yesterday evening and gathered around the key actors from the research, innovation and business sectors.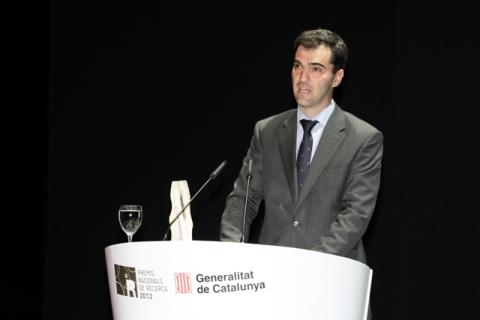 Mr. Artur Mas, President of the Catalan Autonomous Government, offered the award to Mr. Manuel Calvo, President of KIC InnoEnergy Iberia. In his speech, Mr. Calvo highlighted the strong commitment of KIC InnoEnergy to enhance the promotion of the innovation in the field of sustainable energy and the increasing need to make people aware about the benefits of public-private collaborations in this area.
Our business model guarantees what we define as applied innovation: the knowledge we generate translates into new product and services, generating tangible benefits to the real economy in terms of employment, business profits and R+D

- Mikel Lasa, CEO of KIC InnoEnergy Iberia
KIC InnoEnergy is a great example of public-private cooperation in Spain and Portugal with key public and private partners (such as EDP – Energias de Portugal, ESADE Business School, Gas Natural Fenosa, IREC – Catalonia Institute for Energy Research, IST- Instituto Superior Técnico of Lisbon, or the UPC – Technical University of Catalonia among others) working together to achieve the same goal: provide new commercial products and services to the market through the culture of innovation.
KIC InnoEnergy latest partnerships with private and public entities:
Activities developed recently by the company include an innovative partnership with European clean tech venture capital firms and the launch of the MAHGRENOV Consortium, an initiative that aims to stimulate education, research and business creation in the Mediterranean emerging economies in the sustainable energy field.
The MAGHRENOV project is another good example of private-public partnership as it counts with the support of the IRESEN (French Institute for the Research of the Solar and Renewable Energy), the R+D Maroc (Moroccan Association for the Development of the Research), the Tunisian National Agency for Energy Conservation and the private consultancy ITEMS International.
KIC InnoEnergy was launched in May 2010 with the ambition to become the leading engine for innovation and entrepreneurship in the sustainable energy field. It is among the first three Knowledge & Innovation Communities supported by the European Institute of Innovation and Technology (EIT) and operates throughout Europe through its six offices.