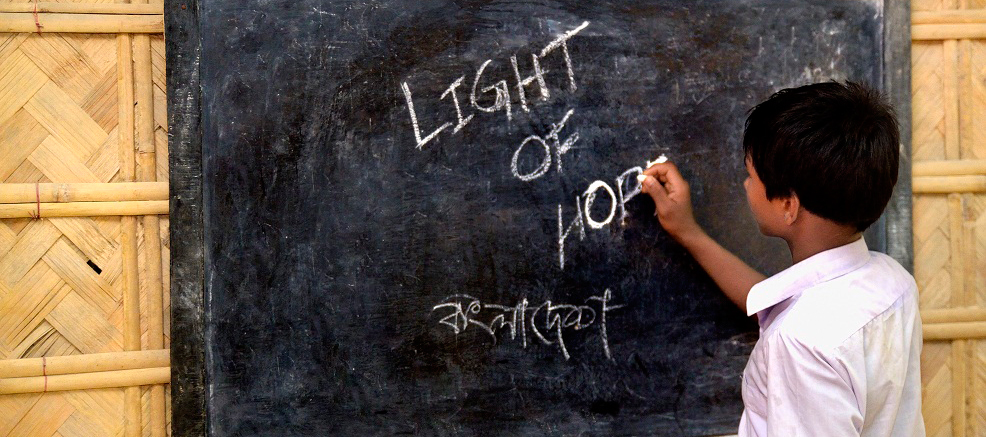 'Light of Hope' (In abbreviation: LoH) is a project which aims to provide quality education to the rural school children by giving them access to e-education. The schools under LoH are equipped with laptop, mini-projector, internet modem that is run by a solar system.
Starting in late 2013, 'Light of Hope' draws attention by winning 3rd prize out of a total number of 816 projects in Dell Education Challenge, 2013 – a global competition of University students in Austin, Texas, USA. Two SELECT students - Md. Nasimul Islam Maruf and Md. Asaduzzaman Shoeb, along with three other members are founders of the project. The total team now consists of around 25 members.
Using the prize money of 2500 USD from the competition and with the help of crowd funding, Light of Hope began its operations on 14th June 2014 at the Poroshmoni Shikkha Academy at Pakundia, Kishoreganj – a semi off-grid region of Bangladesh. Prior to the operation, the solar system was installed on the rooftop of the school on 7th June 2014 with help from Grameen Shakti. The school is the first of its kind in Bangladesh which provides e-education to the children with the help of solar energy.
The next school of Light of Hope is already in the pipeline - 'Swapnanagar Bidyaniketon', which is situated in Potia, Chittagong, Bangladesh. LoH intends to start their second school by September 2014. The members of LoH are currently working on finalization of the process to start the second school.
More information about Light of Hope is available on their website and you can follow them on Facebook and Twitter.