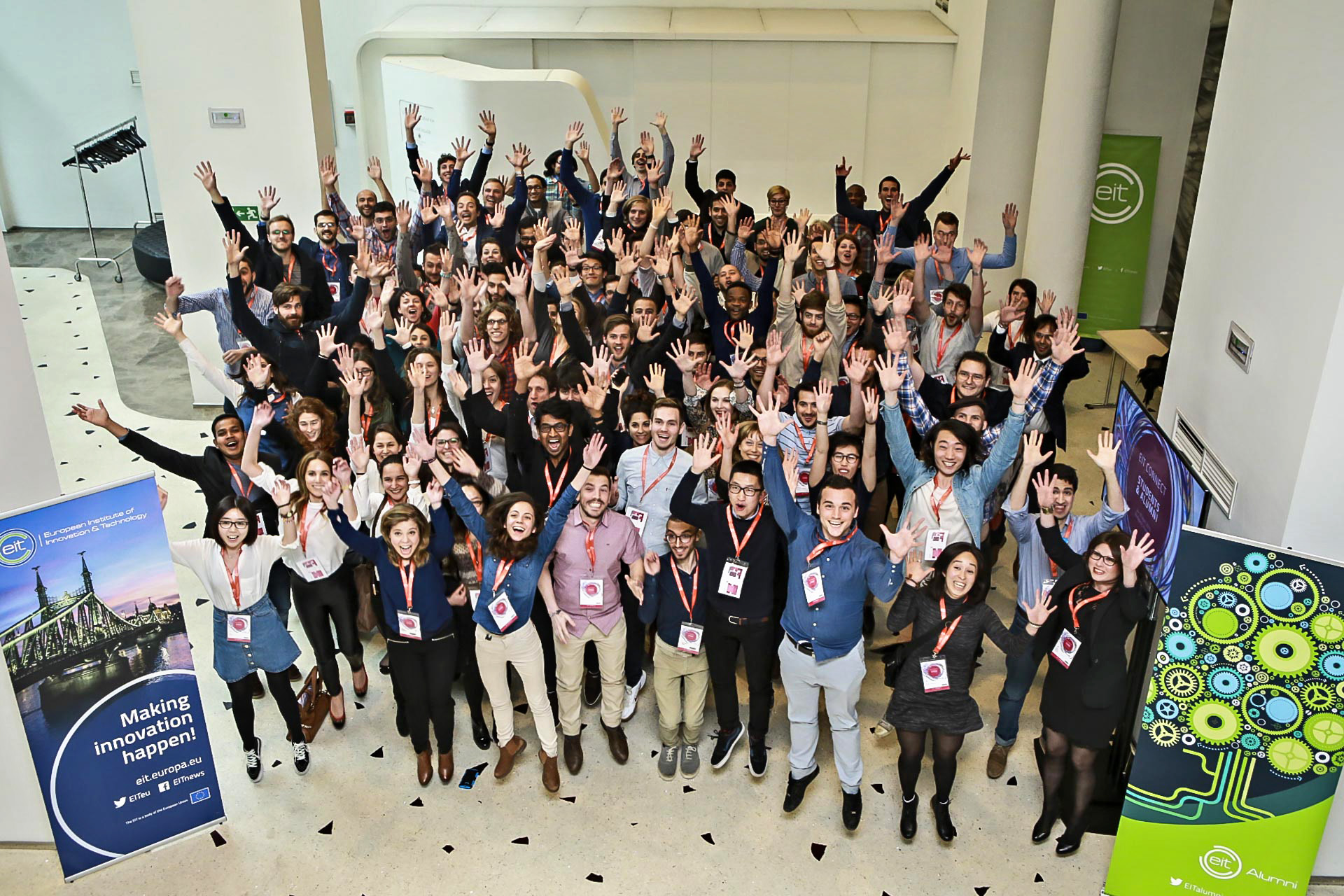 The EIT works with hundreds of educators and administrators in higher education institutes across Europe, training the next generation of entrepreneurs and upskilling lifelong learners.
So how do you teach entrepreneurship, and how does an individual become an entrepreneur? There are many different paths one can take but it usually involves three common factors: a desire to a solve problem, a burning passion, and a nurturing environment to bring it all together.
Take Peter Lakatos for example: Peter had just finished his undergraduate degree; he had the drive and passion to become an entrepreneur but he felt he was missing something. So he enrolled in EIT Digital's Master School Data Science programme in Innovation and Entrepreneurship which immersed him in the EIT Community. Through these studies, Peter gained valuable knowledge from technical courses combined with business and entrepreneurship curriculum. He also was exposed to a network of students and partners which he later drew upon to bring his start-up to life. The nurturing environment of the EIT Community, as Europe's largest innovation ecosystem and its entrepreneurial education programmes gave Peter the boost he needed to become an entrepreneur.
However, sometimes there's the different route, the unexpected turn of events: individuals don't seek entrepreneurship, they fall into it; their idea, research, or passion project takes a life of its own and to keep it alive they find themselves thrown into the world of entrepreneurship. This was the case for Michael from Germany, Dora from Hungary and Kristaps from Latvia.
All of them came from their respective fields: engineering, IT and health care, and drew on their expertise to develop an idea, addressing major societal challenges, which they would later take to the market. What is the one thing they have in common? They all graduated EIT educational programmes where students from a variety of disciplines are given the skills and network to turn their research into products, ideas into businesses and power solutions for Europe's most pressing challenges.
As a creative person with a passion for engineering and innovation, I never knew where to put my ideas and energy. The EIT Climate-KIC Master label degree showed me the right path' said Michael Dittel, CEO Leaftech, (Germany)
Entrepreneurship in Europe should represent the diversity of our continent, the diverse perspective individuals bring from their unique backgrounds be it technical, creative or cultural fuelled by their drive to expand the horizons of what's possible. and help solve pressing challenges facing our society. From new sources of sustainable energy, to transparent food supply chains, accessible healthcare, fair digitalisation and green transition, innovation has the power to turn challenges into solutions.
'I always say this as a joke, I was tricked into studying entrepreneurship. I was really interested in learning more about the engineering side and how we can use technology to solve real world problems… but as part of my scholarship I was required to take a few entrepreneurship courses and that way I got exposed to the idea of starting my own business' Dora Palfi, CEO imagiLabs (Hungary/Sweden)
The EIT powers the diversity of entrepreneurship by equipping students from all disciplines with the skills, knowledge, and network they need to bring their ideas to life. To date, over 3 500 graduates have completed an EIT Master or PhD programme and over 100 000 learners have participated in EIT online educational activities, trainings or workshops.
Over 60 graduate programmes are offered through the 200 plus universities that are partners in the EIT Community ecosystem. All EIT- supported graduate programmes receive the 'EIT Label' ensuring that programmes offered bring together innovative activities, entrepreneurial education, learning-by-doing curricula, industry engagement, and international mobility.
If I wouldn't have done the EIT-labelled degree, I wouldn't be an innovator in healthcare right now. The industry experience was vital to inspire me to become an entrepreneur' - Kristaps Krafte, CEO Vigo Health (Latvia)
Graduates of EIT Label degrees also get the added benefit of joining the EIT Alumni – an interdisciplinary and multicultural network of graduates from our education and business creation activities. The EIT Alumni Community plays a major role in the EIT innovation ecosystem, bringing together up and coming entrepreneurs and innovators with a shared common vision of creating positive societal impact through innovation and entrepreneurship.
At the EIT, we believe that every field of study needs to incorporate innovation and entrepreneurship to meet the challenges and the transitions we face today. From upskilling workers to digitalisation in the classrooms, changes are happening all around us, and we need robust educational programmes and curricula enabling interdisciplinarity to keep up. For this reason, the EIT is strengthening its commitment to work more closely with higher education institutions (HEIs).
This year we launched the EIT HEI Initiative: Innovation Capacity Building for Higher Education. The new initiative will unlock the full innovation potential of higher education institutions by boosting their entrepreneurial and innovation capacity while also integrating them into the EIT Community. Through the initiative, HEIs with be supported with expertise and coaching, access to the EIT innovation ecosystem, and funding, enabling them to develop their own unique innovation action plans. Through the actions plans, HEIs will aim to increase the intersection of entrepreneurship and innovation in their own regional environments creating a systemic shift for faculty, students, and affiliated partners.
The power of entrepreneurial education is limitless, it opens up a world of possibilities for learners to turn their brightest ideas and passions into solutions for Europe. An innovator's path will have ups and downs, but it must always be underpinned with a supportive and diverse network, ready to equip them with the tools they need to succeed. It's never too late or too early to redefine your skill set, sharpen your knowledge and power innovation.
Find out more about how to expand your skills with Europe's largest innovation ecosystem!