Record number of 403 deep tech scale-ups apply to the EIT Digital Challenge 2020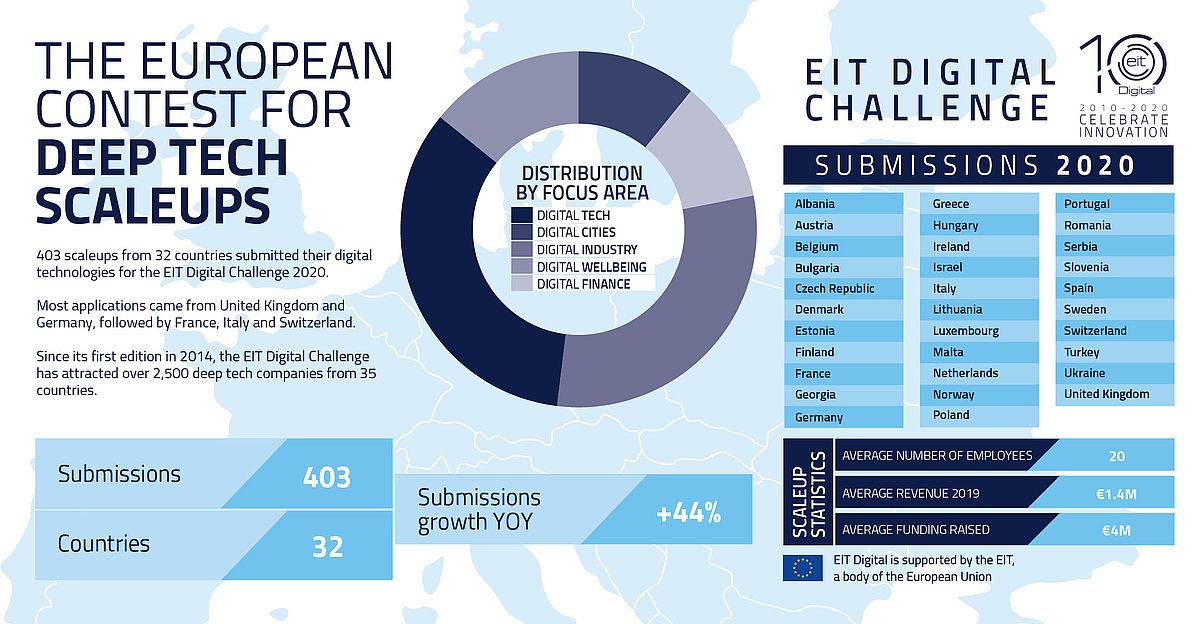 The EIT Digital Challenge 2020 has established a new record: 403 scale-ups from 32 countries applied for Europe's seventh flagship deep-tech competition, a 44% growth with respect to 2019.
The most active countries were the United Kingdom, Germany, France, Italy, Switzerland and Spain.
EIT Digital called for the best European deep tech scale-ups - fast-growing start-ups that are ready to expand internationally - to apply in one of the five thematic areas, strategically chosen with respect to major digital trends and European leadership potential: Digital Tech, Digital Industry, Digital Cities, Digital Finance and Digital Wellbeing.
The twenty best companies will be invited to an exclusive event, where they will pitch in front of a jury of high-profile corporates and investors. Among the 20 finalists, the jury will select five winners who will receive international growth support from the EIT Digital Accelerator for an entire year, worth EUR 50 000. Additionally, the first place winner will receive a cash prize of EUR 100 000. The five winners of the EIT Digital Challenge will be announced in early November 2020.
We are extremely satisfied with the high number of applications received this year. This is an encouraging signal of the growth of the deep tech ecosystem. Many applicants developed truly remarkable deep tech solutions - we are looking forward to select the best companies

Giuseppe Oppedisano, Head of EIT Digital Challenge
The EIT Digital Accelerator will support the EIT Digital Challenge winners with a team of 30 business developers and fundraising experts to help them secure target customers and raise capital, operating from 17 cities across Europe as well as a hub in Silicon Valley. Since 2012, the Accelerator has supported over 300 startups which have raised a total of €900 million in venture capital. 
This competition is about identifying the next generation of Europe's digital champions and supporting them in building disruptive companies that will tackle the world's major challenges. The large number of applications shows that our value proposition - hands-on international growth support of digital deep tech scale-ups - strongly resonates with European entrepreneurs

Chahab Nastar, Chief Innovation Officer of EIT Digital
Since its launch in 2014, the EIT Digital Challenge has received an impressive grand total of 2 500 applications from 35 countries. While it initially targeted start-ups, the EIT Digital Challenge has evolved to become Europe's flagship competition for deep tech scale-ups in digital. In 2020, the average scale-up applicant has EUR 1.4 million in revenues in its last fiscal year, has raised EUR 4 million in funding, and employs 20 people.