Seven new members join the EIT Governing Board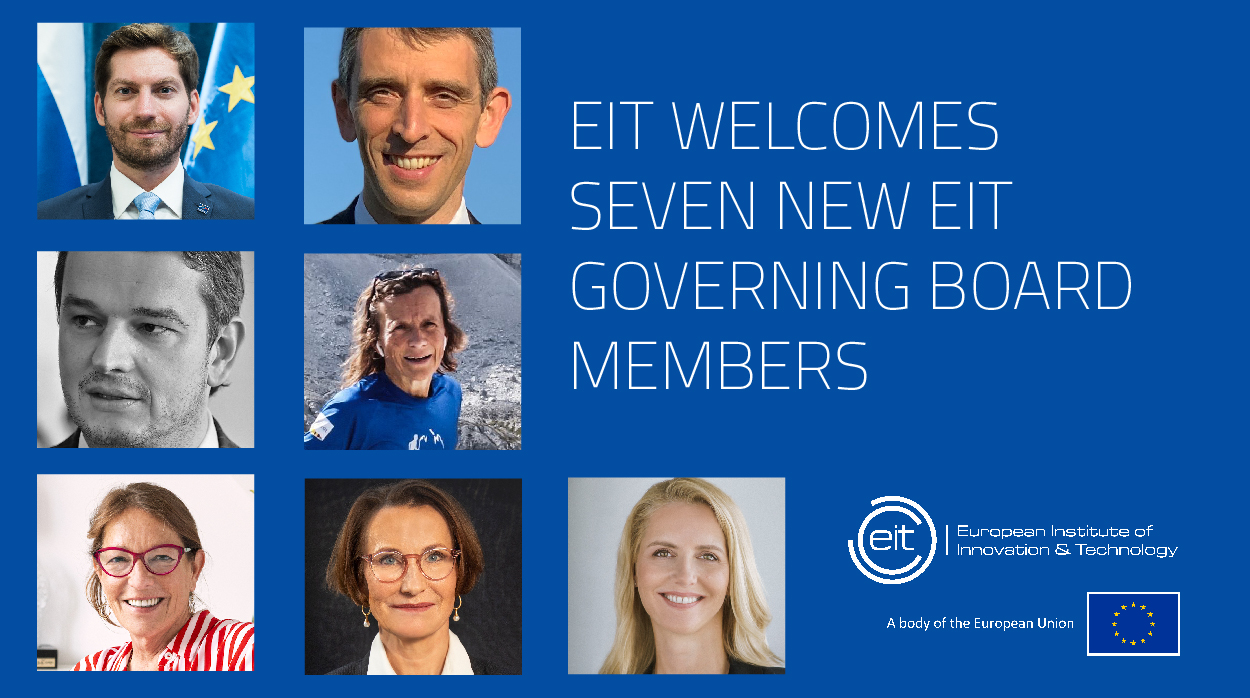 The European Institute of Innovation and Technology (EIT) welcomes seven new members to the EIT Governing Board today: 
The members were appointed by the European Commission with Mariya Gabriel, Commissioner for Innovation, Research, Culture, Education and Youth saying:
I am delighted to welcome, on behalf of the European Commission, seven new innovation leaders to the EIT Governing Board. As Europe's largest innovation ecosystem, the EIT has been instrumental in carving out an inclusive innovation network, where European innovators and start-ups work together to solve global challenges. The appointment of seven top-notch experts will support the EIT's ambition in the years to come, ensuring that Europe is home to a flourishing innovation landscape, where talents, innovation-driven research and business support come together to power a brighter future.
The EIT Governing Board oversees the strategic direction of the EIT as well as the selection and monitoring of its Knowledge and Innovation Communities (KICs). It is composed of experienced professionals in the fields of education, research and business.
The seven new EIT Governing Board members are:
Mark Boris Andrijanič: In July 2021, he become Slovenia's first minister for digital transformation. From 2016 to 2021, he worked for the American technology company Uber, most recently as Head of Safety Policy in EMEA. 
Heinrich Arnold: Former CEO of Detecon, Germany's largest technology consultancy. As a top manager, investor and board member, he has contributed to the innovation transformation in Europe.
Maria Gabriella Colucci: Founder, President and CEO of Arterra BioScience, a biotech company that finds innovative solutions for industrial sectors. Maria published more than 40 scientific publications and applied for 22 patents. She won the European Woman Innovator Award in 2018.
Stefan Dobrev: Head of Group Strategy and Business Development at Unternehmensgruppe Theo Müller. He has a 25 year career in business and consulting, focusing on helping businesses leverage science and technology for commercial success. 
Silvia Lenaerts: Vice-rector Valorisation & Development at the University of Antwerp. She founded the Antwerp Valorisation & Development (AVD): three multidisciplinary open innovation hubs where research, business, investors, citizens and policy makers come together. 
Pia Sandvik: CEO of Research Institutes of Sweden (RISE). Pia has a doctorate degree in quality technology from Linköping University and has been in executive and leading positions in academia, industry and the public sector for over 20 years. 
Inga Skisaker: CEO and Chairwoman of Swedbank in Lithuania. She has over 20 years of experience as Senior Executive from different industries, leading cross-cultural teams across the Nordic and Baltic regions. 
Appointed for four years, they will guide and steer the EIT together with the other members of the EIT Governing Board. 
Meet the members of the EIT Governing Board