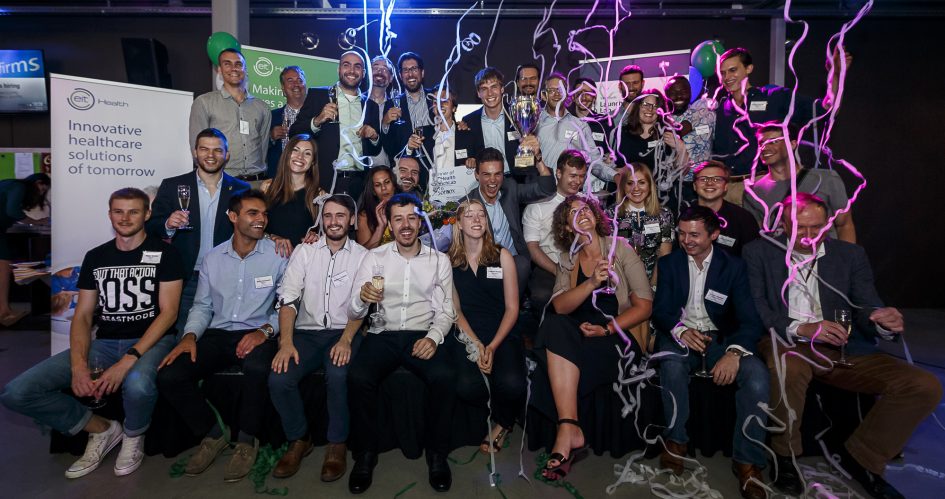 Ten promising healthcare startups from around Europe honed their pitches, made connections and picked up development grants during the eight-week EIT Health LaunchLab, a "pressure cooker" programme to assist entrepreneurs with turning their ideas into commercially viable businesses.
The programme culminated 15 September with a competition in which all the participants presented before a jury of experts at in Delft, pitching ideas like image-recognition software for spotting microbes, a more affordable prosthetic leg, medical tourism schemes and a better type of hearing aid.
Organised by EIT Health, TU Delft and YES!Delft, the programme provided the ten healthcare startups from six European countries with lab and office space, and allowed them to participate in workshops to help them in developing their projects and to undertake networking and educational field trips at EIT Health CLCs in France, Germany and Sweden. LaunchLab participants also took part in "Peer2Peer" presentations: pitching to the rest of the group and to relevant experts and receiving valuable feedback on their business models.
"During the eight-week programme, the startups had the unique opportunity to pitch their ideas to hundreds of potential customers, clinical experts, industry representatives and investors," said Dr. Kurt Höller, Director of Business Creation at EIT Health Headquarters. "Thanks to their questions and advice, the startups learned to sharpen their arguments and give tailored answers to customers' needs. During all the discussions, they also learned which business model would be the most effective in the near future. Not only in their home countries, but all over Europe too. That's a real competitive advantage that, besides EIT Health, no other startup programme in healthcare can offer."
After the final round of pitches in Delft, the two companies whose projects were judged to have the greatest potential were Somnox (Netherlands), a "soft" and cuddly robot that helps you sleep, and Tubulis Technologies (Germany), which seeks to enable the next generation of cancer treatment by providing the "molecular glue" that connects cancer-sensing antibodies with chemotherapeutic drugs. Both companies will visit a special EIT Summit in Barcelona to further kick-start their ideas.
While there were only two top winners, all of the participating teams benefited from the LaunchLab – with some even finding valuable mentors or possible customers. During the programme, more than 350 connections were made, teams signed 12 memorandums of understanding, arrangements were made for six paid pilot projects, and participants garnered a total of more than €50 000 in grants.
LaunchLab also allowed the people behind of the 10 projects to see their work the way others see it. "In just two months' time, participants not only know whether their business model looks good on paper, but also if it responds to the needs of the market," said Pieter Guldemond, Managing Director of YES!Delft.
Roel Kamerling, Director of Medical Delta, associated with TU Delft, added that the success of this year's LaunchLab shows that the effort should be carried forward. "Some of the most innovative medical startups from all over Europe have participated in this truly unique first edition of the EIT Health LaunchLab. We therefore have the ambition to continue the programme next year," he said.
See a press release on LaunchLab here.
See the list of participating projects here.
Catch up with the latest news from the EIT Community in the Newsroom.
Subscribe to the EIT Newsletter to get the best of the EIT Community's news in your inbox once each month.