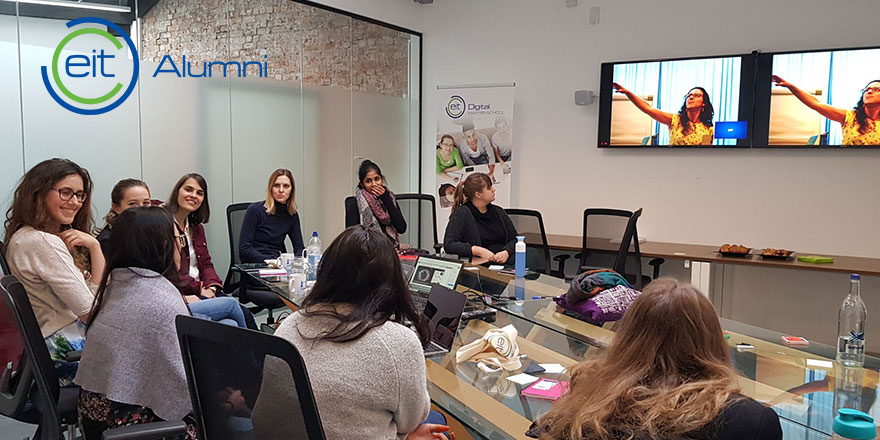 The annual workshop empowers women leaders
The first ''Leadership Intensive'' cross-Innovation Community event to boost leadership skills among female entrepreneurs, took place in London between 9 and 11 November. The workshop was organised by Women@EIT, a community of EIT students and Alumni, born to bring the female community of the EIT together and to create a network for sharing opportunities, ideas and experiences. The community aims to increase the visibility of the EIT among potential female applicants to the EIT's education and business acceleration programmes.
'From our experience, we found that while there is a lot of enthusiasm around such communities, very few want to lead. We realised a potential in these shortcomings and decided to organise a workshop to impart the necessary leadership skills', said EIT Digital Alumna, Shruti Kuber.
The event saw team bonding sessions conducted by EIT Alumnae Dori Palfi, co-founder and CEO of imagiLabs, and Maria Kanov, Co-founder of Women@EIT, who were also among the finalists at the EIT Awards 2018. Participants were provided with templates for event proposals, and at the end of the event could submit their own proposals, receiving feedback from the organisers and other participants. The workshop saw the participation of key speakers Gen Ashley, Director of Women Who Code London, Reemma Puredath, Co-Director of She++, and Catalina Butnaru, CITY.AI Ambassador for London.
EIT Climate-KIC Alumna, Giulia Marzetti, said: 'The weekend brought together some amazing women with varied backgrounds, who have already contributed to building and supporting the EIT Alumni community. Almost all the Innovation Communities were represented, with attendees from EIT Climate-KIC, EIT InnoEnergy, EIT Digital and EIT Health joining us'.
'During the weekend, we had the chance to submit event proposals for 2019 and discuss the future of Women@EIT. These ranged from talks with female leaders, coding boot-camps, hackathons aiming at solving real issues, and summers schools' she added. 'A major takeaway from the event was that I am finally part of a community of driven women who are passionate and committed to make the EIT thrive and to share their love for science and STEM. I felt empowered, part of a community, and I can tackle going out there and organise events and create opportunities.'
---