Image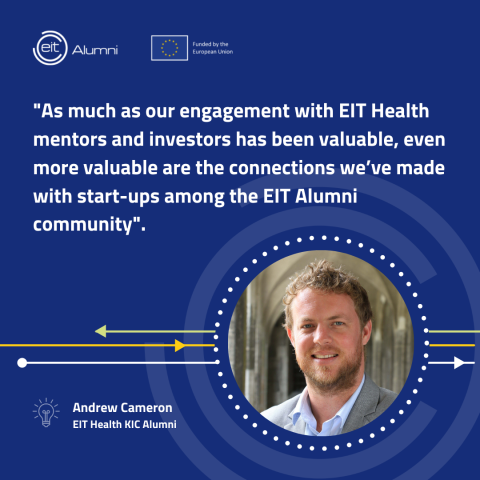 Graduate of the EIT Health
Andrew Cameron, EIT Health Alumni, is the CEO and Founder of FeelTect, a start-up company developing Tight Alright technology - the first wearable, connected-health technology for measuring and monitoring sub-bandage pressure during compression therapy, primarily for the treatment of venous leg ulcers (VLUs).
Starting back in 2016/2017 EIT Health provided Andrew continuous support while enrolled in a BioInnovate Ireland fellowship that allowed the identification of the clinical need for improved VLU treatment, which then led to the development of the Tight Alright solution that would be the key factor for the future of FeelTect.
In 2018 Andrew and his team participated in the Digital Health Validator Bootcamp a full-time two-month digital health intensive incubator hosted at Trinity College Dublin, University of Dublin in collaboration with EIT Health, to enable early-stage Digital Health start-ups to validate their business idea and find their product/market fit in Europe.
As the project team progressed from a university project to a spinout company, the EIT Health Headstart Programme provided the first injections of funds to FeelTect and in 2021 they were in the EIT Health Catapult Programme finals. In addition to the participation in all these programmes, they also received expert guidance Andrew added: "As much as our engagement with EIT Health mentors and investors has been valuable, even more valuable are the connections we've made with start-ups among the EIT Alumni community. It is inspiring for us to see their successes and insightful for us to hear their stories. The EIT Alumni Community also provides a great source of camaraderie and reassurance, allowing us to share our challenges and seek advice from peers who are encountering or have successfully navigated those same experiences".
In September 2021 FeelTect secured €1.225 million in seed funding from a mix of value-add investors, including high-net-worth individuals, VC-affiliated funds, strategic partners, and government organisations. The funds from this equity investment have allowed the Tight Alright wearable device to advance from design to manufacture, as well as verification and validation testing. Third-party strategic partners have been engaged to expedite the remote monitoring capabilities of the system through proven backend infrastructure that meets compliance and regulatory requirements, as well as updates to the digital interfaces for improved usability.
Furthermore, the American Venous Forum recently approved funding to FeelTect's clinical colleagues to conduct clinical validation of the Tight Alright technology with VLU patients across numerous sites in the United States. These combined Seed round achievements will pave the way for Tight Alright's market introduction in 2023.
FeelTect is currently in the process of expanding its team, conducting a key clinical trial, and positioning the Tight Alright technology for scalable commercialization as part of its next investment round.