Image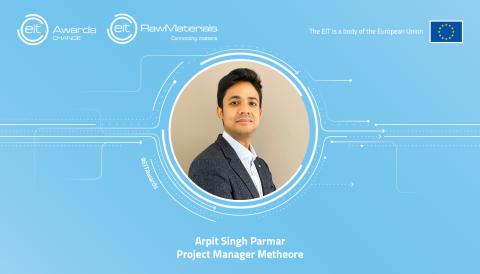 Graduate from the EIT Label programme EMerald Maser in Georesources Engineering & EIT CHANGE Award nominee and Project Manager Metheore
Arpit Singh Parmar is the Project Manager at METHEORE since 2019. He is a member of the EIT Alumni Community, following his graduation on the EIT-labelled programme EMerald Master in Georesources Engineering. While in his studies, Arpit recognised the potential impact of digitalisation in the raw materials sector. This encouraged him to leaving his job as a consultant, then pursuing an entrepreneurial path and starting to work on a prototype that could be transformed into a commercial solution.
He is now working on the LaserSieve, a non-intrusive and non-disruptive online 3D solution that measures the throughput, size and shape of materials operating in harsh industrial environments. The real-time information helps users to detect any process deviations and take corrective action promptly. The solution improves the occupational safety standards of the workplace by reducing human exposure to high dust environment and hazards.
He and his team also participated in the EIT RawMaterials Accelerator Programme, which allowed them to establish a scalable business model and develop their idea.  
He is one of the nominees of the EIT Awards 2020 in the CHANGE category. Find out the winners during the event on 8 and 9 December 2020.