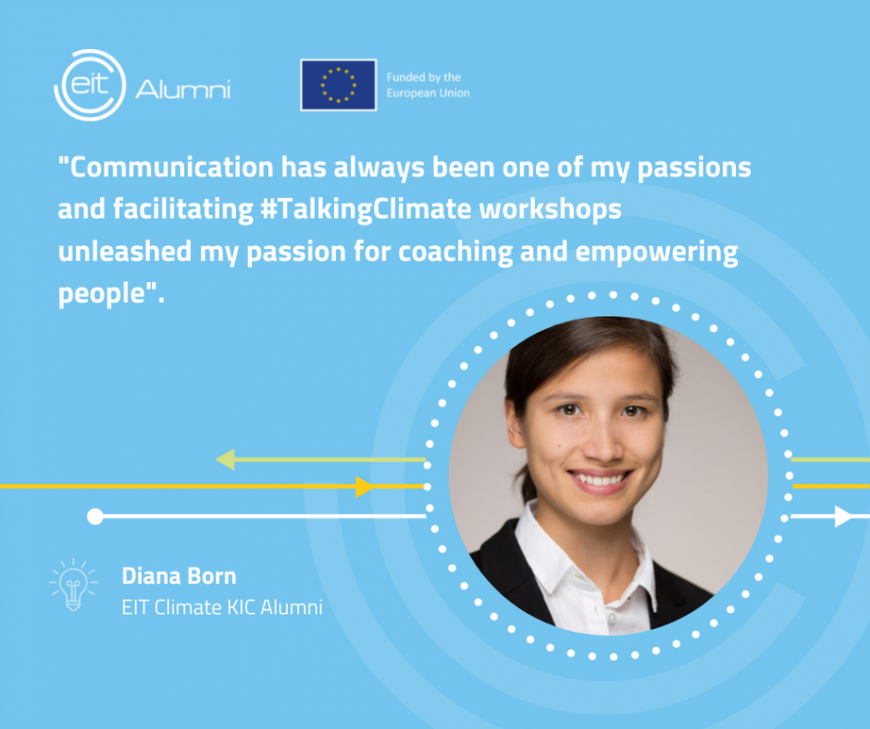 Tackling climate challenges with the EIT Climate-KIC Program - Pioneers into Practice
Diana was returning to Germany after a year of marine conservation in Southeast Asia, and it was evident to her that climate protection was the only way to keep coral reefs alive. She reached out to acquaintances who had previously participated in EIT Climate-KIC programs and was soon connected with the Pioneers into Practice program manager.
According to her previous experience in science research and marine conservation, it was not easy to start a career as a climate professional. She used to think it would take several years for her to create a real climate impact, but the Pioneers into Practice program showed her that she already had all of the skills she needed to make an immediate difference, such as the system innovation tools she used in the program's challenges with WWF and MaaS Global. She went on to say:
"The pioneers into practice programme did not only enable me to approach complex problems with relaxed systems thinking and playful innovation tools, but it also connected me with so many like-minded climate enthusiasts around the world that keep motivating me to keep tackling climate change every day. Many young people approach me and ask how I made the switch into climate protection in my career and I always recommend joining the pioneers into practice programme to kick-start their climate career."
Diana mentioned that the Pioneers programme taught her how system innovation works in practice through complex challenges, for example, by using the system innovation toolbox from the pioneer's course, her team created an innovative ecosystem certification system for WWF and she developed sustainability KPIs for MaaS Global. The programme also brought her into a like-minded community where she met people from different backgrounds that are highly enthusiastic about climate.
Moreover, she shared that communication has always been a passion of her and this programme allowed her to join a pilot project from the EIT Climate-KIC and Climate Outreach that needed trainers to organize the #TakingClimate workshop. These courses help people to successfully speak about climate change in their daily lives and promote social change, and Diana's love for coaching and empowering others was reignited as a result. Therefore, she continues to give workshops and has even joined the EIT Climate-KIC Network of Climate Coaches, a sustainability expert for the Futurewoman network that aims to empower women in sustainability. Currently, Diana is working on a roll-out of the #TakingClimate project among university students, together with two amazing teammates from the EIT Climate-KIC Alumni community course.
When asked how the EIT has helped her along the way, she said that she has been surrounded by open-minded, creative, playful, and climate-action-oriented people and that if anyone is looking for a teammate to help them develop their crazy climate idea, the EIT Climate-KIC community is the place to look!
In summary, it took less than five months after starting her climate career through to EIT Climate-KIC to create the climate impact she had envisioned when she decided to switch her career path and have lots of fun long this way into our net-zero and fully circular world.