Image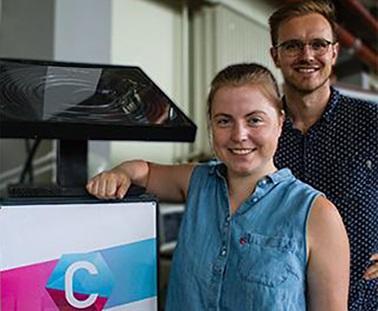 Graduates of EIT Climate-KIC Summer School and Climate-KIC Phd Programme in Sustainable Product development
Julia Römer, graduate of the EIT Climate-KIC Summer School, founded Coolar with fellow EIT Alumni Community member Arno Zimmerman, who recently finished his PhD with EIT Climate-KIC. Coolar have developed an innovative and efficient solar powered refrigerator which has great potential in developing countries, particularly in regards to the refrigeration of vaccinations.
They have won numerous business concept awards such as the Berlin-Brandenburg business plan competition, and were named top 3 in the Handelsblatt Energy Awards in 2016. In 2015 Arno Zimmerman was named on Forbes's 30 under 30 list for best young entrepreneurs and was nominated for the EIT CHANGE award.
Since creating the idea for Coolar in the Climate-KIC Summer School, Coolar have also been included in the EIT Climate-KIC Greenhouse Incubation programme and the Climate-KIC Accelerator programme, meaning that the EIT community has been with them every step of the way.