Image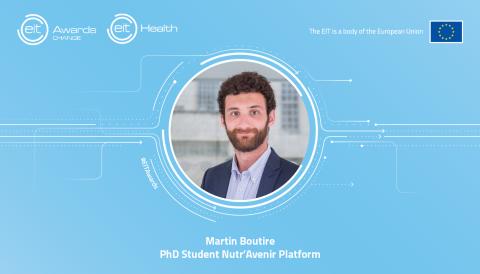 Graduate from EIT labelled programme Master in Technological Innovation in Health (EIT Health) & EIT CHANGE Award nominee 
Martin Boutiere has started dealing with the clinical nutrition field for some time now. He is currently a PhD student at the Laboratory of Fundamental and Applied Bioenergetics in Grenoble, France under the Cancer and Nutrition team. The problematic with cancer patients is that they are commonly fed with high protein diets to tackle malnutrition, and this implies a risk of tumour growth.
His platform Nutr'Avenir is focused on nutrition for cancer patients undergoing chemotherapy, with the aim to reduce malnutrition, which is responsible for 20-30% of cancer deaths. It will allow the validation of new concepts for preclinical research services and to patent new formulations, which can then be sold to the main commercial companies in the field.
"The skills, insight, and expertise I gained from the teaching, fellow students and mentors on the EIT Health-labelled MTiH programme were instrumental in forging my entrepreneurial spirit." – Martin Boutiere
With his graduation from the EIT-labelled Master in Technological Innovation in Health, he developed the interest in entrepreneurship and the process of identifying a problem and finding an innovative solution. He believes the field of cancer research and nutrition offers a lot of innovative potential. 
He is one of the nominees of the EIT Awards 2020 in the CHANGE category. Find out the winners during the event on 8 and 9 December 2020.