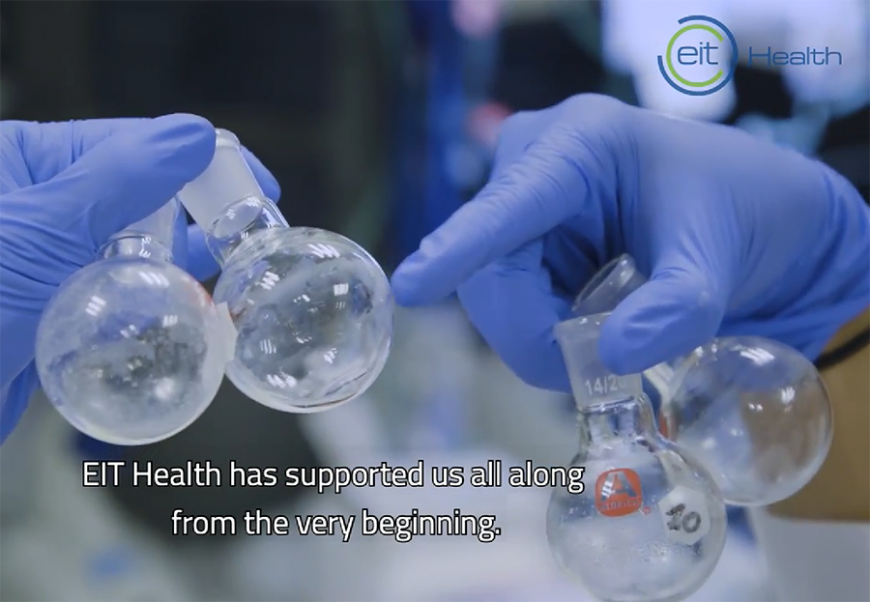 Providing cancer patients with more effective and less toxic treatment, supported by EIT Health.
The protein Myc is found in most human cancers and plays a significant role in the growth of new tumours. It is difficult to attack with drugs due to its location in the nuclei of the cells and its role in the division of healthy cells.
Peptomyc relies on peptides, another fundamental component of the cell, to create therapeutics able to fight these Myc proteins. Peptomyc's peptide-based solution is a new treatment option for cancer options. The treatment is non-toxic, does not cause resistance, improves life-expectancy among patients, and can be used in combination with standard chemotherapy or immunotherapy.
In 2021, Peptomyc started human trials of their Omomyc-based therapy and the clinical trial will assess the safety and efficacy of this novel therapy. Approximately twenty patients with advanced solid tumours across various cancer types, whose disease has progressed despite previous treatments, will be enrolled in the phase I study. This clinical trial will be carried out at three Spanish hospitals across Barcelona and Madrid. Read more about this latest milestone.
EIT Community support
EIT Health has been part of the start-up's journey. Peptomyc competed in the finals of the Business Plan Aggregator at the 2016 EIT Health in Barcelona, and won third place in the Biotech category.
In 2018, Laura Soucek, Peptomyc founder and CEO, won the first EIT Public Award. Peptomyc has received support through three different EIT Health programmes, the company had access to a vast network of support, which provided the company with funding and helped their innovation advance into clinical testing.
We started Peptomyc with our savings but luckily we managed to get public and private funding, which allowed us to start the industrial production of this mini-protein and proceed preclinical safety studies. We have to show that our drug is not toxic, only then we will be able to use it for the first time in patients. EIT Health supported us all along this journey, from the very beginning. We have participated in several programmes and mentorship inictatives.

Dr. Laura Soucek, Peptomyc founder and CEO
---
Want to know more about Peptomyc?
Website: peptomyc.com
EIT Health-backed cancer therapy firm Peptomyc receives EUR 4.2 million in financing
Preclinical validation of new cancer inhibitor from EIT Health-supported Peptomyc
EIT Health supported Peptomyc starts human trials of 'universal cancer therapy'