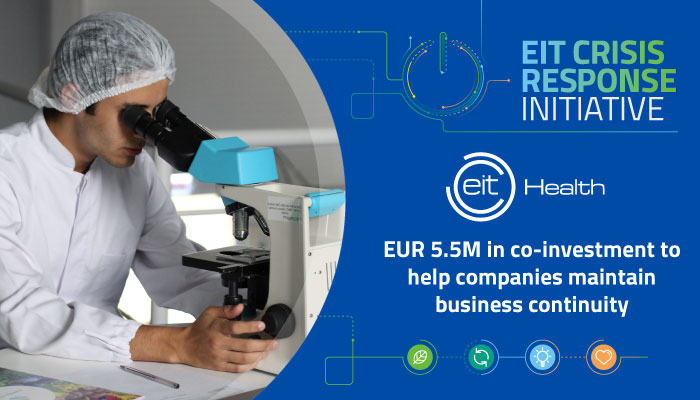 EUR 5.5 million in co-investment through Start-up Rescue Instrument to help companies maintain business continuity.
EUR 5.5 million has been awarded by EIT Health to start-ups in Europe. This will support business continuity in response to the COVID-19 pandemic. Initiated by EIT Health in May, the Start-up Rescue Instrument called on highly innovative biotech, medtech and digital health start-ups to apply to receive, in return for options, up to EUR 500 000 in co-investment from EIT Health. The instrument was launched to alleviate the financial shock posed by COVID-19 and bridge the fundraising gap of start-ups in Series A, B and bridge-financing rounds.
Start-up Rescue Instrument
Funded through the EUR 60 million EIT Crisis Response Initiative, the Start-up Rescue Instrument is part of the EU's collective efforts to tackle the COVID-19 crisis. The EIT's Crisis Response Initiative supports activities that directly address the pandemic and also assists all types of start-ups in dealing with the disruptions caused by the crisis.
A two-year project backed by the European Commission and European Parliament, European Startups, found that venture capital (VC) activity is expected to significantly slow during the pandemic, leading to cash flow concerns for start-ups. VC typically accounts for approximately 30-40% of funds raised by start-ups in Europe, which represents a significant proportion. The report detailed that European start-ups employ two million people, and that the effects of failing to address the economic impact of COVID-19 on start-ups are far reaching.
In the current climate, many start-ups are experiencing issues in raising funding rounds that are critical to their future. We have extremely promising start-ups here in Europe, and we cannot sit by and allow the existence of a generation of emerging companies to be threatened by COVID-19. We are doing everything within our power to support start-ups during this difficult economic time. However, it is not all doom and gloom – health has never been so front of mind, and start-ups with the ability to be agile within the changing environment can find themselves on the precipice of a whole new wave of opportunity

Kurt Höller, Director of Business Creation, EIT Health
The Start-up Rescue Instrument marks another move from the healthcare innovation network to strengthen Europe's ability to overcome the challenges posed by the pandemic. In previous months, EIT Health has announced a call for start-ups specialising in COVID-19 to apply for accelerator programme, Headstart; COVID-19 campaigns via its crowdfunding platform, aescuvest; 15 new projects to develop COVID-19 solutions as part of its Rapid Response initiative, and a platform to connect innovators via its website to facilitate collaborative working and action in response to COVID-19.
Selected start-ups
The 11 start-ups selected will receive up to EUR 500 000, and are developing solutions in cancer, infectious diseases, wound and joint care, medical imaging, and cardiovascular disease. The following is a list of the start-ups, with more detail about each one:
Allcyte GmbH (Austria): Focuses on functional drug testing with a high-content imaging platform supported by big data to ensure that every cancer patient gets the best treatment possible.
hemotune AG (Switzerland): Uses magnetic blood purification to restore immune balance in sepsis.
HT BioImaging (Israel): Employs an innovative system to measure heat diffusion in biological tissues to enable early detection of cancer in a non-invasive and real-time procedure at the point of care.
ILya Pharma AB (Sweden): Develops next-generation skin biologics to tackle wounds in skin and mucosa that are resistant to standard treatment.
Mowoot (Spain): Develops a purely physical, non-drug and non-invasive solution to treat intestinal transit disorders, such as constipation.
MRIguidance B.V. (The Netherlands): Enables the future of surgery by giving radiologists and orthopedic surgeons radiation-free BoneMRI that visualizes and characterises bone structures.
Neurent Medical (Ireland): Develops a minimally invasive treatment for rhinitis, an inflammation of the mucous membrane inside the nose affecting millions of people worldwide.
Orthox Holdings Limited (UK): Offers a new paradigm in cartilage repair, for increasing mobility, reducing pain and regenerating strength.
Oxford Endovascular Ltd (UK): Develops metallic mesh tube devices, invented by engineers and clinicians at Oxford University, to treat patients suffering from brain aneurysms.
Portabiles HealthCare Technologies (Germany): Develops high-precision solutions for medical gait analysis – for better therapies and better quality of life for patients with movement disorders.
Volumina Medical (Switzerland): Addresses the problem of natural repair of 3D soft tissue by developing highly innovative tissue reconstruction technologies for the market of reconstructive and plastic surgery.
Discover more about who was awarded funding from the EIT's Crisis Response Initiative