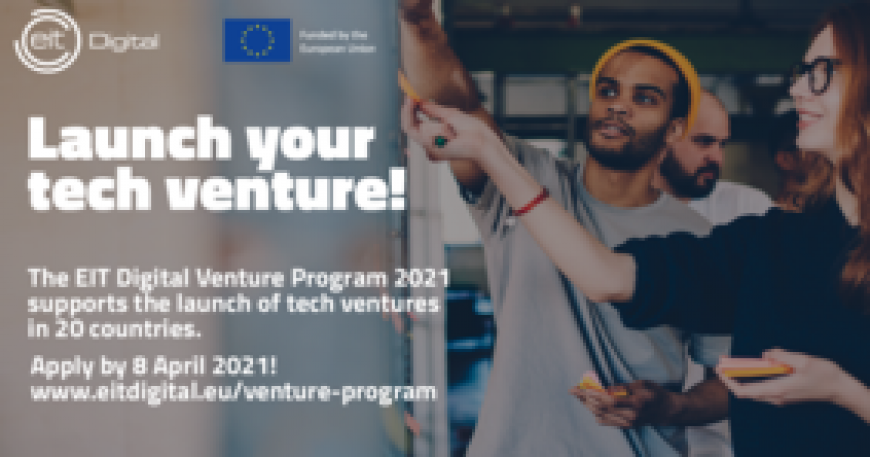 EIT Digital is launching today the EIT Digital Venture Program 2021, supporting entrepreneurial teams in digital technology from 20 European countries to finalise their MVP, start their venture and start raising funds.
Applications are open until 8 April 2021.
The EIT Digital Venture Program helps entrepreneurs with deep tech business concepts to develop and finalise their Minimum Viable Product (MVP), establish their startup company, and raise funds with investors. The program offers an eight-week pre-acceleration executed by six regional partners Found.ation in Greece, Startup Wise Guys in Latvia, KTP in Poland, JIC in Czech Republic and Slovakia, BGI in Portugal and University of Ljubljana (SEB) in Slovenia. Teams also receive financial support of up to EUR 25 000 in three stages, from MVP to incorporation to raising funds with an investor.
The 2021 edition of the EIT Digital Venture Program will be held online. It welcomes entrepreneurial teams from one of these 20 eligible countries: Bosnia and Herzegovina, Croatia, North Macedonia, Montenegro, Serbia, Slovenia, Albania, Bulgaria, Cyprus, Greece, Romania, Estonia, Latvia, Lithuania, Ukraine, Malta, Portugal, Czech Republic, Poland, Slovakia.
In the last three years, the EIT Digital Venture Program has invested in the creation of 66 deep tech startups in these countries. We are extremely proud to continue this mission in 2021 and invest in talented entrepreneurial teams to quickly develop digital deep tech innovations.