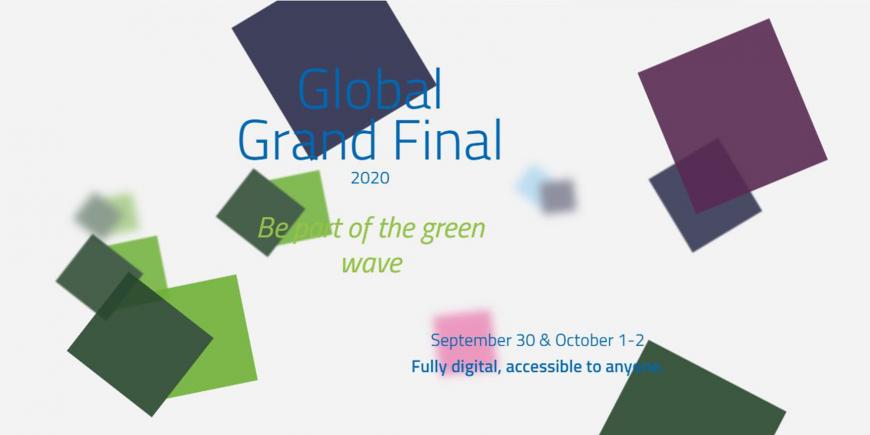 Be part of the Green Wave: the fully virtual global green business event of the year.
EIT Climate-KIC's ClimateLaunchpad is the global green business ideas competition whose mission is to unlock the world's cleantech potential that addresses climate change. The competition creates a stage for those ideas and each year the Global Grand Final presents the world's crème de la crème of green start-ups. This year we'll host the event online: accessible to all and unconstrained by time, space, travel or CO2.
Learn more about ClimateLaunchpad
Step into the future where waste diapers turn into energy, big data eliminates crop failure, and glue is made from algae instead of oil. For starters.
Get an idea of what to expect, meet the 2019 winners. Or catch the vibe by watching the after movies of previous events.
Programme
Day 1: step into the future of green business
68 finalists from 56 countries will pitch in 8 different themes
---
Day 2: expand your mind
Participate in an interactive day with thematic keynotes and discussions.
Join workshops about building green business, cleantech trends and how to prepare for the future.
Announcement of Top-16 finalists to pitch in the Grand Final.
---
Day 3: meet the next cleantech unicorns
Short & sweet opening session
Watch the world's Top-16 start-ups pitch
Award ceremony and virtual drinks
The global green tech business event
Every year cleantech start-ups across the globe take part in our competition. Months of rigorous training, intense coaching, National & Regional Finals; it all leads up to our yearly Global Grand Final. This is where it all comes together and you get to witness the most viable green start-ups battle it out for global impact.
Stay ahead of the game and be part of this green wave. Here's just 3 reasons why you should join us at the green business event of the year:
You will spot and scout breakthrough greentech innovations before they hit the market
You become part of our global network of sustainability and green business experts
In just three days you gain new insights on fixing climate change with thought-provoking talks by leading speakers
ClimateLaunchpad, fixing climate change, one start-up at a time.