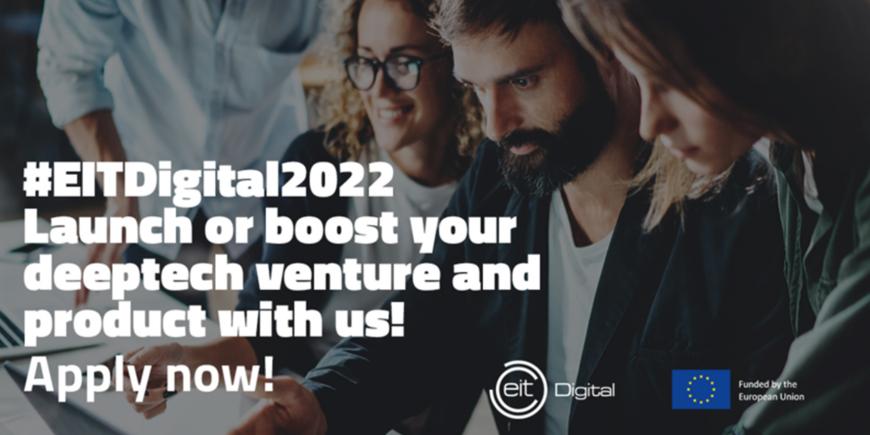 Submit your proposal and join EIT Digital in boosting entrepreneurship and education for a strong digital Europe.
Submission deadline: 12 May 2021 at 5pm (CEST)
EIT Digital is launching the construction of the EIT Digital 2022 activities and accepts submissions until 12 May 2021.
EIT Digital 2022 is aimed at entrepreneurial minds planning to launch or boost a deep tech venture and product (Innovation Factory), or to deliver entrepreneurial digital tech education programmes (Entrepreneurial Academy).
The EIT Digital work programme 2022 is guided by the EIT Digital Strategic Innovation Agenda 2020-2022, which identifies the five focus areas of its strategy: Digital Tech, Digital Industry, Digital Cities, Digital Wellbeing and Digital Finance. The EIT Community considers these to be key areas to support for a strong digital Europe.
The EIT Digital Innovation Factory supports pan-European teams from education, research and business organisations. With EIT Digital support, selected activities will be embedded in the European ecosystem and receive a financial co-investment to launch or boost their digital deep tech venture and products.
The EIT Digital Entrepreneurial Academy provides support for the implementation of programmes and courses with business development-oriented components. The EIT Community is looking forward to receiving proposals for its Master School, Professional School and Summer School.
Download: EIT Digital 2022 call for proposals
Timeline
Proposal System opens: 6 April 2021
Information sessions by Video Conference: 7 April 2021
Brokerage Sessions by Video Conference: 14 April 2021
Proposal System closes: 12 May 2021 at 5pm (CEST) - hard deadline, no extension will be granted
Submit your proposal by 12 May 2021
Engage in the largest European digital innovation and education ecosystem. Contribute to EIT Digital 2022. For more details, please visit the dedicated website.